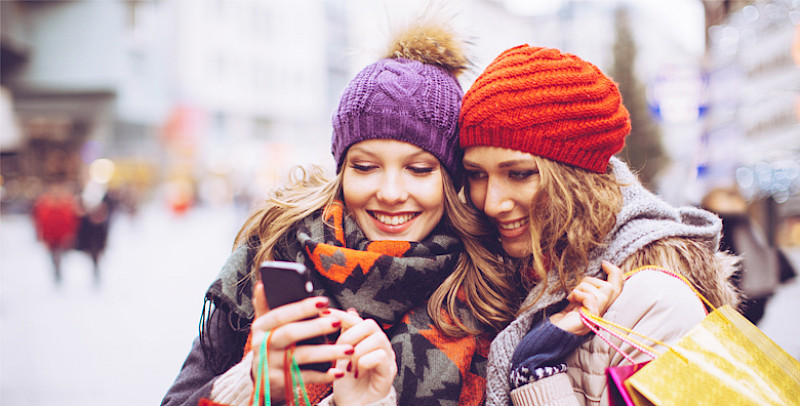 3 Surprising Little Ways VPNs Help You Save Big On Black Friday
TODO ?>
If you're like most holiday shoppers, you're probably planning to nab Black Friday and Cyber Monday deals, big time. Unfortunately, the shopping frenzy makes the internet a hacker's buffet—and you're a snack. 
Snack status aside, with the help of a trusty VPN you can beat the phishermen and make sure you're the only one getting steals this Black Friday and Cyber Monday with a secure online shopping experience this holiday season.
Let's Talk VPNs
Before we go into the details of how a VPN can help you save when you shop, here's a quick refresher on what VPNs do and how they help you stay secure when shopping online:
When you purchase a VPN (Virtual Private Network), you buy your own little corner of the internet, where you can be almost entirely anonymous and avoid all government surveillance. 
VPNs can also help you access networks all over the world as if you were a local. If you think this sounds like a big benefit, you're right. Aside from being a total stranger for the holidays, you can also hide your IP address (basically your computer's home address when you use the internet) and appear to be anywhere in the world. 
With VyprVPN, you can do this by swapping your IP address with one of our 200,000 global IPs. That means no government censorship when you're online, access to TV programs in any part of the world without geoblocking, and a closed, private network that the government and other unauthorized eyes can't see. 
VPNs are beneficial year-round—but when it comes to Black Friday and Cyber Monday, your VPN can keep you safe and even save you money as you shop.
Your Holiday Online Shopping Risks
Hacking, But Not Like You'd Expect
Shopping on your phone? More and more online shoppers are turning to their phones to buy gifts, and no wonder. It's fast, you can use your favorite store's apps for added security, and you can shop anywhere, no problem. Except there is one problem, and it's a big one: your phone often uses public wifi, without notifying you. If you're using your phone on public wifi without protection, you could give away your card number by shopping on the network. This is how it starts: 
When hackers control a wifi network, they see everything you see when you use their wifi. So if you enter your card number when making a purchase, they see your entry. Hackers don't need to break into any of your accounts. They just need to watch what you do from their end of the public wifi. 
Phishing Season Begins 
Being a total stranger during the holidays with a VPN is not only fun—it's also a great way to protect your data from phishers. Even a little personal information can help phishers conduct nasty email phishing campaigns against you during Black Friday and Cyber Monday, and phishing attacks aren't obvious. An especially common tactic is to send false shipping notices with attachments or links that lead to fake sites. While these counterfeit sites may appear legitimate, they can trick you into revealing info about yourself or accidentally downloading malware. 
3 Ways A VPN Protects Your Data and Your Budget
1. VPNs Secure Your Network and Bank Account
When you shop with a VPN, your personal information is protected the moment you log in. That's because VPNs hide your IP address and safeguard your internet connection. If you want to shop on the go, you can easily add your mobile device to your VPN account. That way, you can use pre-vetted, secure servers without worrying about your personal information.
Shopping from home? You can link your VPN to your wifi and protect up to 5 devices simultaneously, keeping your technology's location (and your home address) hidden.
2. VPNs Help You Shop Black Friday Sales Anywhere
The world is full of phenomenal TV shows and Black Friday deals—there's just one problem.
If you're not in the right country, you might not be able to access some of those great shows. Streaming services usually restrict access to specific countries. So if you're in China, for example, you can't watch Netflix. And if you're not in the US, you might not be able to access the same Black Friday deals. What's a humble shopper like yourself to do? Hide your IP address, and here's how:
VPNs hide your IP address, and while that might sound like acronym soup (fair) it actually means you can access streaming services worldwide from anywhere. Just choose your server, switch your IP address with one of ours and watch shows in your location of choice.
Hiding your IP address is especially good news for anyone traveling out of the country for the holidays. If you're an American visiting family abroad in a country with censorship, you can access blocked sites and US Black Friday sales as if you were in the US. That way, even though you're not in the country, you can still save.
3. VPNs Keep Your Card Info Safe and Your Shopping Secure
With a VPN, the network you're on is always safe, and no one can covertly see your card number. You can add extra layers of security, too, with some Black Friday cybersecurity best practices: 
Use a credit card, not a debit card.
Use a separate credit card for online shopping.
Your card might have a one-time security code feature. Use it to set a time limit and a spending limit.
Try an internet plugin for card security. This plugin will mask your card's details when you make purchases.
If you're curious about accessing the world's best sales, and the internet security tool that most tech-heads prefer, consider adding a VPN to your Black Friday shopping list. Help your money go even further this holiday season with VyprVPN.