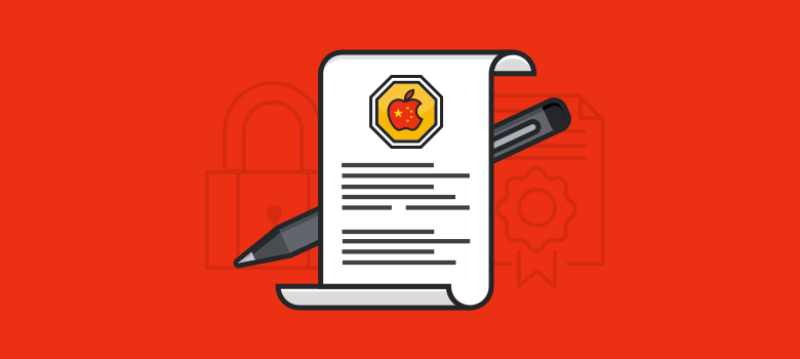 We Asked Apple for Transparency in China: Here's What Happened
TODO ?>
As you may be aware, we recently joined forces with Greatfire.org and called on Apple to be more transparent in its response to China's demand to remove VPNs from the country's app store. We co-authored a letter to Apple CEO Tim Cook in which we outlined our concerns and requests, asking Apple for more transparency and less complicity with dangerous censorious practices. We appealed to them to use their position to enact positive change – in the form of standing up for Internet freedoms – as opposed to setting a dangerous precedent of censorship. Here's a recap of our efforts and results.
Open Letter: We shared a copy of our letter online and opened it up for signatures through the Action Network, and collected more than 1,500 signatures – thank you to everyone who signed! Golden Frog received confirmation last week that Apple's CEO has received the letter, and we will keep everyone posted once we receive a response.
reddit AMA: We held a public discussion on reddit's ask me anything platform (AMA), where we engaged in some great conversation. People asked a variety of questions, from our opinion on the Apple/China situation to concerns with censorship in general. Head on over to reddit to check it out.
Final Thoughts
"We hold the view that internet access is a human right that should not be dictated by governments. The appeal to Apple for greater transparency was a call to give the free world a glimpse at the obstacles oppressive government's place on their people, and hope that other governments don't follow their example," said Sunday Yokubaitis, President of Golden Frog.
We hope Apple sees the value is sharing their experience in China, and will begin to share more information with customers regarding their business actions and decisions, as well as carry this transparency to other places where Internet freedoms are under attack. Golden Frog and Greatfire.org will continue our fight for Internet freedom, and to encourage others around the world to join us in battling censorship and restrictions.
Update – October 20, 2017: United States senators Ted Cruz and Patrick Leahy also penned a letter to Apple CEO Tim Cook, asking for details and answers surrounding the decision to pull VPN apps from the app store. Among the questions they pose are  to ask for the number of apps Apple has been asked to pull from the China app store, how many have been removed and Apple's reaction to various requests and legislation.