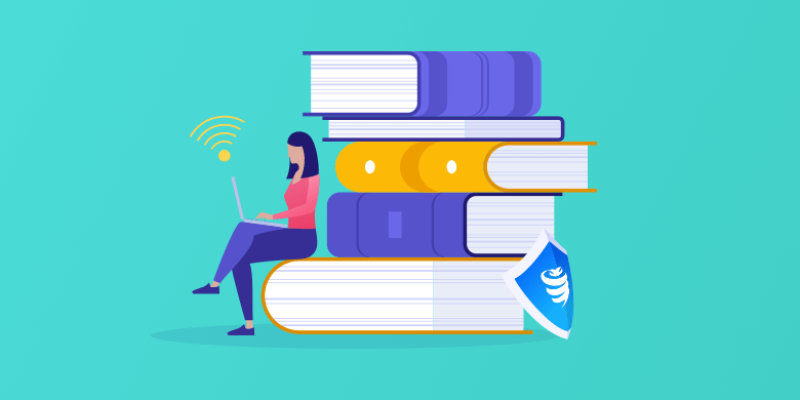 The Best VPN for Going Back to School
TODO ?>
School is back in session, and whether you're a college student, a middle school student or somewhere in between, back-to-school likely means more time at your computer. Students use the internet to do homework, conduct research and even communicate with peers and teachers via email and online learning portals. There's also killing time between classes, checking personal email and social, plus group project collaborations after hours. 
Much of this internet activity takes place at school, utilizing whatever networks the school has set up. These days, many of these networks are public wi-fi networks, and the networks may change depending on if you're in the classroom, the library or outside the building. With more work taking place online and group collaborations, more students find themselves working in places off the school property, like coffee shops or local hangouts. 
Although the internet is convenient and empowering in a school setting, it also comes with some risks and drawbacks. This is why a VPN for school is an essential item for students of all ages. There are several reasons you might want a school VPN, including the following: 
Bypassing Restrictions or Filters: School networks often block sites or applications that may be distracting, such as YouTube or gaming sites. 
Protecting your Privacy: School networks may not be as secure as you'd like or assume, and it's important to remain aware of privacy risks. 
Keeping Your Data Safe: School network administrators can monitor your activity or collect your data on the network if they choose. 
Staying Safe on Wi-Fi: If you're using off-campus locations to study or work, chances are you'll encounter an unsecured wi-fi network along the way. Some on-site wi-fi could also be insecure. 
Bypassing Censorship: If you're studying remotely or from a country which imparts censorship, some content or resources you need may be blocked. 
A VPN comes in handy if you are bypassing school wi-fi restrictions, using the VPN to unblock apps or trying to determine how to unblock school websites. If you are wondering why do schools block everything, keep reading - we will delve into those details below! 
Bypassing School Wi-Fi Restrictions
One main reason to use a VPN is for bypassing school wifi restrictions. Although most schools provide wi-fi free of charge and across areas of campus, there are at times limitations on what you can access on these networks. Generally, restrictions are implemented to keep students focused and on track, and to remove common distractions in the learning environment. Restrictions are also put into place to forbid access to inappropriate or negative content at times, or to block access to any sites not used directly for learning. The most commonly-blocked things include streaming sties, online gaming and social media sites (if you're looking to unblock social media, visit our guides page for all the details).
There is a way to get around these restrictions, though. A VPN! A VPN effectively functions as a school internet unblocker, and is a way that Netflix is unblocked for school. It also allows access around any filters to websites or other popular applications a school has deemed unfit. School network restrictions are put into place by local network administrators to keep bandwidth usage to a minimum and keep compliance with the policies in place or to keep students focused on their academics. This is why it's important to learn how to unblock school websites and how to bypass school wi-fi restrictions. 
Public Wi-Fi
In addition to restrictions, public wi-fi is another risk to consider while using school wi-fi networks. While not inherently unsecured, many school networks may in fact lack the required or expected security measures they should have in place. Many schools also set up various hotspots to make things convenient for students (think about college campuses), but in doing so introduce risks or vulnerabilities by introducing a large number of wi-fi networks. It's best not to log into unlocked or unknown networks at school, even if they look legitimate; a tactic some hackers use is opening hotspots near restricted wi-fi spots to trick students (or people at large) and steal their info. Additionally, as mentioned above, working outside of the school property in a place like a coffee shop or library puts you and the information you are accessing for your school assignment at risk.
Student Privacy
A VPN is the best way to protect your online privacy, which may be even more important when you are at school than at home. Many schools require students to log in to use their networks, and as a result the network administrators can see everything you do online from the sites you visit to how long you stay there. All this activity is readily available if the administration chooses to ask for it. There is also a risk of leaving your computer logged in at school, or of others viewing your search history if you walk away from a school computer. While a VPN doesn't help you if you forget to log out of an account on a public computer, it is your best line of defense and helps you remain aware of the risks to your data and privacy at school.
Why VyprVPN is the Best VPN for Schools
VyprVPN is the best VPN for school. Whether you want to secure your connection while collaborating at a coffee shop, avoid restrictions your school puts onto their network or protect your privacy, VyprVPN is the best school VPN for school and definitely the way to go. 
Prevent your school from monitoring what you're doing and access whatever you want while on the network with VyprVPN. Give it a try today.