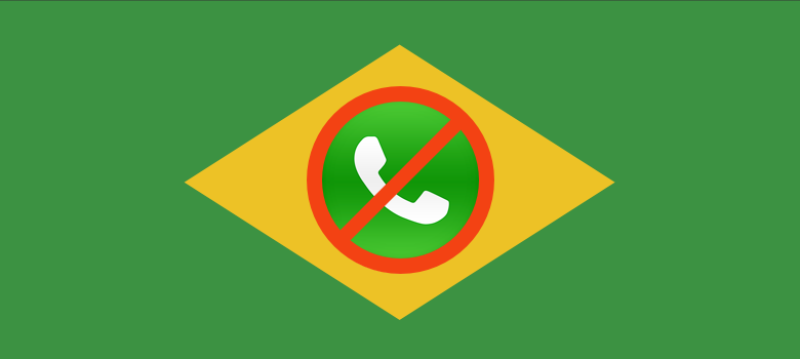 WhatsApp Shut Down in Brazil
TODO ?>
Update: 10:15am, EST – It's been reported that the suspension on WhatsApp has been lifted.
It's been reported that a judge in Sao Paulo has ordered that WhatsApp be shut down. The shutdown is set to last 48 hours, and went into effect starting at 9pm EST on December 16.
WhatsApp is very popular in Brazil – the most used app – with 93 million users. The service is widely used by the youth and poor in the country, as they cannot afford costly Brazilian phone plans.
It's been reported that this shutdown occurred because WhatsApp didn't comply with a court order regarding a criminal investigation. WhatsApp was previously threatened in Brazil in February, when there was also a judicial order sent to mobile operators to shut the app down after a different police investigation. This shutdown also comes after months of pressure from Brazilian telcos, who have been pushing the government to realize WhatsApp is "unregulated and illegal" – and blame their decline in service on the messaging app.
Censorship like this is relatively uncommon in Brazil, however, and the country is rated as "free" in the Freedom on the Net 2015 report. Brazil is also a huge user of social media, with some sites saying it's the "social media capital of the universe."
Mark Zuckerberg, CEO of Facebook (who own WhatsApp) wrote on the Facebook blog that "This is a sad day for Brazil. Brazilians have always been among the most passionate in sharing their voice online," he added "I am stunned that our efforts to protect people's data would result in such an extreme decision by a single judge to punish every person in Brazil who uses WhatsApp."
Unfortunately this 48 hour shutdown could be just the beginning of more severe Internet limitations, if the ruling Brazilian congress has its way. There are bills in the works that could criminalize posting to social media sites and heavily limit freedom of expression in Brazil.
As a company that fights for a private, secure and open Internet experience for users around the world, this restriction on free speech is deeply concerning. Many citizens are looking for technology, like VPNs, to help them maintain access to the web and avoid this censorship. Retain access to your favorite social media sites from Brazil and anywhere in the world – Try VyprVPN Free.