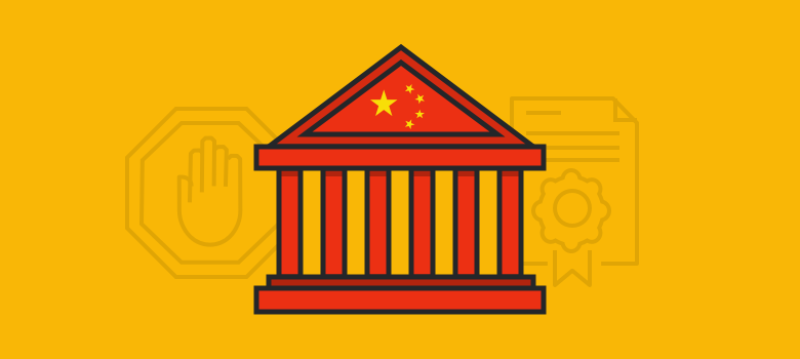 Intense Censorship Arrives Ahead of China's Communist Party Congress
TODO ?>
China's Communist Party Congress is coming up this week, and in advance of the meeting many security, surveillance and censorship measures are being ramped up in the country.
The Communist Party Congress takes place every 5 years, and this year marks the 19th meeting. During this congress, leadership is elected to rule the country. This year the vote is mostly a done deal, as President Xi Jinping, the current party boss and head of China's military, is almost guaranteed to lead a second 5-year term. As described by one source, "while the process appears to work from the bottom up, it is in fact controlled from the top down."
Implications for Internet Freedom
While an important event for the country from an objective standpoint, the Communist Party Congress is especially relevant in regards to Internet freedom. During previous instances of this event, China ramped up censorship substantially in the country, blocking access to sites, social media and censoring content on a massive scale. For example, during the last congress in 2012, access to Google search was cut off and Google services have been blocked in China since. Censorship has been increasing in China in recent weeks and months this year – above previous and typical levels – so the occurrence of the congress only threatens to intensify these efforts.
In the weeks leading up to the party congress, the following censorship has occurred:
Tech Firm Penalties: Major tech firms in China have received penalties for failing to censor content as required by the government. Several firms, including giants like Tencent, Baidu and Weibo, are receiving "maximum penalties" for failing to remove banned content such as fake news and porongry and content that "incites ethic tension" and "threatens social order." The penalty includes a fine, and could result in the revocation of licenses and suspension of services in its most hard forms.
WhatsApp Blocked: Although some aspects of WhatsApp, such as photo/file sharing and video chats, have been blocked in the past, this move represents the first time the messaging service was blocked entirely within the country. Blocking whatsApp represents great censorship as it impedes ability to communicate, and is always concerning given the new technology potentially used to implement the blocks.
Content Audits: Auditing – or more aptly, policing – of online content has been ramped up in advance of the meeting to ensure all online content adheres to governemnt rules and regulations. Many individuals have been hired to review and censor content, removing mentions of things including "references to the 1989 Tiananmen Square protests, sexual innuendo, violence and mockery of state leaders."  Additionally, comments and reviews are deleted when they pertain to topics forbidden under the tightened regulations from this June, such as "political criticism, drug addiction, adultery, religious cults, and violence."
Participants in Censorship: Many outlets report that some of the tech giants willingly participate in censorship in advance of the event, with Baidu announcing they launched a program to identify and dispel online rumors under the guidance of the Online Security Bureau of Ministry of Public Security and Beijing Municipal Public Security Bureau – with information forwarded to law enforcement and other institutions for review and vetting.
Of course, many other security measures are being increased in the country as well. Physical security measures including ID checking, increased monitoring and surveillance, and restrictions on rental properties are all being put into place.
Censorship in China, VPNs
In general censorship in China has been increasing in the past months. In addition to blocking of content and applications, the Chinese government has stepped up censorship of circumvention tools – or tools people within the country use to bypass the Great Firewall and get around Internet restrictions. This censorship includes the blocking of tools such as VPN applications. VyprvPN has been blocked many times in the past months along with other VPN providers. Unlike other providers, however, we've been able to respond quickly and get back up and running in a matter of hours, restoring access to a free and open Internet for our users. For more information about these blocks and how we work to restore service for our users in China, view our recent blog posts.
You can also view our infographic to see all the details on the censorship situation in China and its escalation in recent months. View Infographic Now
Source: NPR, Tech Wire Asia, Business Times, China Money Network, New York Times