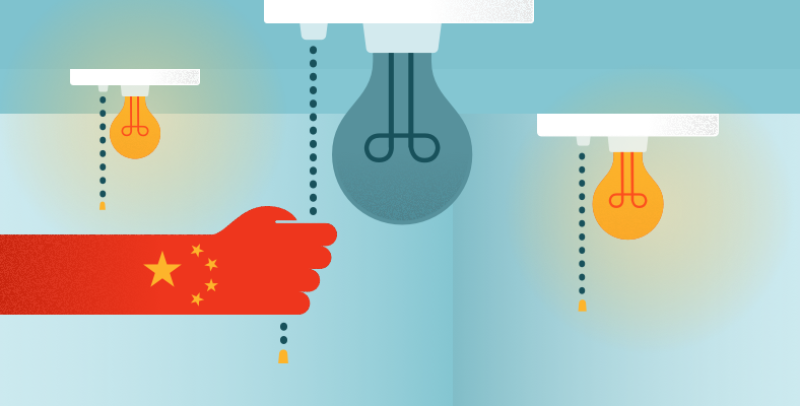 China's Web Censorship Curbs the Innovation of Startups
TODO ?>
There is a saying that innovation in the Chinese IT industry stopped after 2005. When you compare the market value of Chinese and US IT companies, it's clear that IT companies in the US continuously emerge over time. These companies serve consumer needs and wants in a variety of niche markets and segments, even after giants like Google, Amazon and Facebook entered the marketplace. In China, however, the market is dominated by a few big players – Baidu, Alibaba and Tencent, also known as BAT giants – and no significant new companies have entered since 2005.
What happened in 2005?
By now you've probably heard of the Great Firewall (GFW), a barrier that keeps Chinese Internet users from interacting easily with the outside world. Unfortunately, the Great Firewall is just part of the Chinese government's overall control strategy. The official name for the entire, complex infrastructure of monitoring and censorship is called the "Golden Shield Project," which is ostensibly a way to keep hackers and other rogue elements from harming Chinese Internet users. The Golden Shield Project aims to monitor all levels of information flow within the country and across China's boarders. It was in 2005 that the Great Firewall finished its first-term building and began full operation, which is identical with the timing when new companies stopped entering the market.
So how does the Great Firewall influence the Chinese IT industry?
Web censorship fends off competition from powerful international players and gives local firms some breathing room, but an alarming result of censorship is that domestic IT giants form monopolies. These monopolies control the market and acquire startups as soon as they spot a good idea, making it very difficult for new companies to enter. For example, Baidu now dominates 80% of the search engine market since Google left China due to censorship. Youku is prevailing since YouTube is blocked. And it's the same situation with Weibo, because Twitter is blocked. Dropbox's Internet connection has been throttled so no one uses it, and as a result Seasun has become the leader in online storage service providers. Thus, every startup company has to ask themselves one question: What could I do if one of the BAT giants comes after my ideas and copies my product?
Monopoly is not entirely a result of online censorship, of course. Chinese regulations are still in the exploration and development process, and are not effective at prohibiting monopolies and discerning copyright infringement. On the other hand, not being able to access the latest information and exchange ideas globally, due to censorship, will ultimately be a huge loss for homegrown entrepreneurs. In January 2013, the Chinese government temporarily blocked GitHub, an open-source website where programmers around the world create and discuss projects, which is also home to lots of wall-escaping software. "GitHub is the primary tool that programmers learn and keep track of international trends… censoring it will only result in Chinese programmers being left behind, losing competitive edge and vision," said by Kaifu Lee, founder of the Innovation Works, a Beijing-based innovation incubator. At various times, the Chinese government has blocked similar technical websites including Python, Google Code and Mashable. GitHub was unblocked a few days later after the huge protest on the Internet, but the potential of being blocked will always exist for any and every website.
The pervasive web censorship in China also increases the operation cost of startup companies. It doesn't affect common costs like equipment, rent or hiring, but drastically increases the costs associated with finding workarounds to bypass China's immense national Internet censorship.
Huge impact
The impact of the Great Firewall is beyond imagination. Access to an open and free Internet in the country is necessary, especially since the Chinese government expects to achieve industrial transformation and counts on the growth of high-tech companies. It's imperative that people are able to escape the Internet restrictions in China that are having detrimental effects on both individuals and businesses.
Golden Frog's Chameleon for VyprVPN allows Internet users to bypass Internet censorship in China and around the world.
Read more about the Great Firewall of China, or share your thoughts in the comments below.