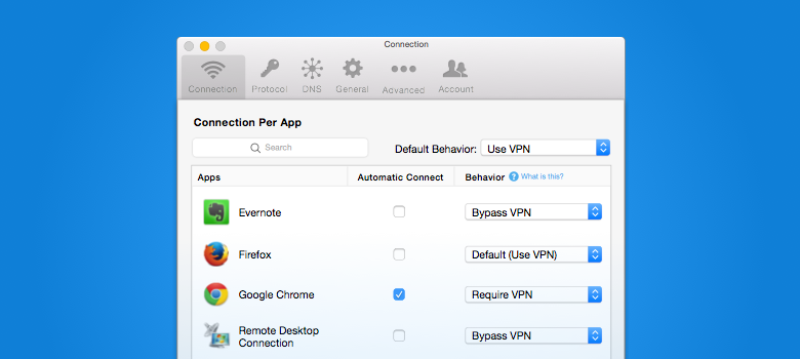 Connection Per App Now Available for VyprVPN for Mac
TODO ?>
Want your apps to trigger VyprVPN to connect whenever you launch them? Now you can!
Connection Per App is now available for VyprVPN for Mac. Just like on VyprVPN for Android, Connection Per App lets you control your VPN connection behavior on a per-app basis. Once you set up Connection Per App to your preference, this will make it easier for you to know that you will never be online without VPN protection.
For VyprVPN for Mac, Connection Per App offers 3 different settings:
Use VPN – all apps run through the VPN connection
Require VPN – if VyprVPN is not connected when you launch the app, it will not be able to send unprotected traffic until the VPN is connected
Bypass VPN – even when VyprVPN is connected, these apps will not use the VPN connection
Separately set VyprVPN to automatically connect whenever you open any app so you don't have to remember to manually connect each time.
Connection Per App is a new feature in the latest 2.8 release of VyprVPN for Mac. We also included Advanced OpenVPN settings for those that want extra control of the protocol settings. Read the full changelog here.