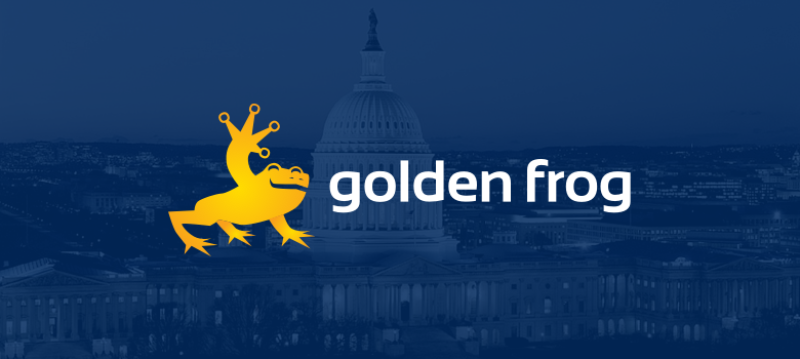 Dashlane and Golden Frog Form Partnership to Increase Online Security for Customers
TODO ?>
Leading password management and personal VPN companies create special offers for their respective services
NEW YORK – June 29, 2015 – Dashlane, the world's leading password manager and digital wallet, and Golden Frog, a company that fights for online privacy, have teamed up to urge Internet users to take critical steps to better protect themselves and their data online.
Through the partnership, Dashlane will offer all Golden Frog customers six months of free access to its Premium password management service. In turn, Golden Frog will offer Dashlane customers its VyprVPN service with 1 GB of free data, and 500 MB recurring in subsequent months.
"Nearly every press article that lists tips for being more secure online recommends using strong passwords and a VPN service," said Sunday Yokubaitis, president of Golden Frog. "Through our partnership with Dashlane, we are allowing their privacy-minded customers to try our VPN service so they can determine if it's the right tool for them to further protect themselves against hackers and data snoops. Furthermore, we're thrilled to offer our customers access to the premier password management service in the industry."
Dashlane securely stores passwords and other common personal information, such as email addresses and phone numbers, providing users with a seamless browsing experience with fast logins and easy form filling. With Dashlane Premium, users can sync and backup data across an unlimited number of PC, Mac, iOS and Android devices, share passwords with trusted contacts and get VIP support. Dashlane does not record the "master password" or any hash/derivative of it on its servers, so data can only be decrypted by the customer.
VyprVPN encrypts users' Internet connections and enables them to thwart the data snooping and inspection of Internet traffic that is regularly practiced by governments and commercial ISPs. By encrypting the "last mile" (the connection between the user's device/computer and the Internet backbone), users can better ensure their online privacy and open up an uncensored and secure Internet, no matter where they are in the world. Golden Frog owns the hardware at all their VPN server locations and manages its own network to deliver fast and reliable VPN connections.
"Dashlane and Golden Frog share a common mission: to offer people an easy, flexible way to protect themselves online no matter what device they use, and no mattter where they are in the world," said Dashlane CEO Emmanuel Schalit. "Customers who take advantage of this partnership will arm themselves with two of the best services for the dangers of the online world."
Customers who are interested in taking advantage of the partnership can sign up at: http://bit.ly/dashlaneVPN
About Dashlane
Dashlane makes identity and payments simple with its password manager and secure digital wallet app. Dashlane allows its users to securely manage passwords, credit cards, IDs, and other important information via advanced encryption and local storage. Dashlane has helped over three million users manage and secure their digital identity, and has enabled over $3.3 billion in e-commerce transactions. The app is available on PC, Mac, Android and iOS, and has won critical acclaim by top publications including The Wall Street Journal, The New York Times, and USA Today. Dashlane is free to use on one device and Dashlane Premium costs $39.99/year to sync between an unlimited number of devices. Dashlane was founded by Bernard Liautaud and co-founders Alexis Fogel, Guillaume Maron and Jean Guillou. The company has offices in New York City and Paris, and has received $30 million in funding from Rho Ventures, FirstMark Capital and Bessemer Venture Partners. Learn more at Dashlane.com.
About Golden Frog
Golden Frog is a global service provider committed to developing applications and services that preserve an open and secure Internet, a mission that continues to grow in importance as users across the world face privacy threats. With users in over 195 countries, Golden Frog owns and operates server clusters in North America, Europe, South America, Asia and Oceania. Golden Frog owns and manages 100% of its own servers, hardware and global network to ensure the highest levels of security, privacy and service delivery. Golden Frog offers a comprehensive reseller program that provides the best VPN service and deals to resellers and their customers. The company also offers VyprVPN for Business to protect company communications, identity and data, and secure employees' Internet connections in the office or on the road.
Learn more about Golden Frog's vision for a free and open Internet by reading our "Peace, Prosperity and the Case for the Open Internet" vision paper located at www.vyprvpn.com/vision