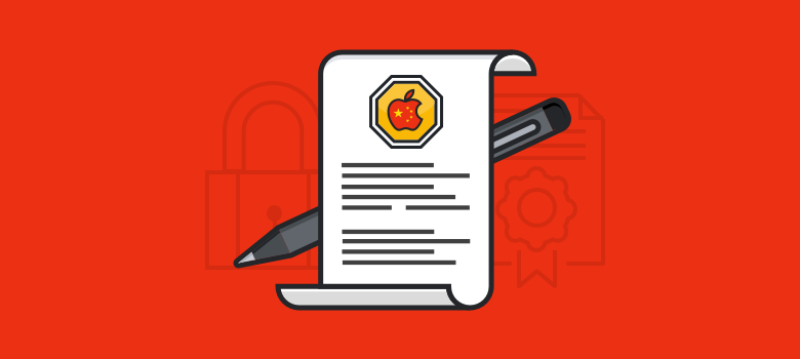 Golden Frog and Greatfire.org Write Letter to Apple Denouncing Censorship, Urging Transparency
TODO ?>
Censorship in China has been escalating recently, as the government steadily increases control over the Internet. In conjunction with this activity, many foreign companies are complying with censorship – the most notable of which is Apple. Apple recently pulled VPN apps from their China App Store, in a move that appears to condone restrictions imposed by the Chinese government. Unfortunately, this isn't the first time Apple has complied with China's censorious demands – they've previously removed news applications and content, among other practices.
Apple's recent actions uphold an alarming trend of censorship, threatening Internet freedoms and the human right to information
It's highly concerning to see a large company such as Apple, whom has previously stood up for the rights and privacy of Internet users (recall their 2016 battle against the FBI to protect backdoor encryption), take a divergent approach in China.
In response, we've penned a letter to Apple – in partnership with Greatfire.org, a nonprofit that helps Chinese Internet users circumvent censorship and restrictions imposed by China's Great Firewall – appealing to them to stop participating in censorship and increase transparency into their practices and decisions. Furthermore, we urge Apple to change course – rather than set a dangerous precedent for other companies to follow, Apple should use their authority as a leading technology company to advocate for Internet rights and freedoms worldwide.
We cannot prioritize profits over human rights
We urge Apple to take a step back from the short term opportunities in China and consider the long term impact their censorship decisions have. Ultimately, it's possible (not to mention likely) Apple will join the ever-growing list of companies invited into China, only to have their technologies copied and subsequently be kicked out. If this happens, compliance with China's censorious practices will be in vain.
Apple will be left with the ramifications of decisions that conflict with their values, including the setting of a dangerous precedent for companies worldwide.
Join us in asking apple to stop participating in censorship, and increase transparency into their decisions in China. Join us in standing up for Internet freedom – Sign the Letter Now.