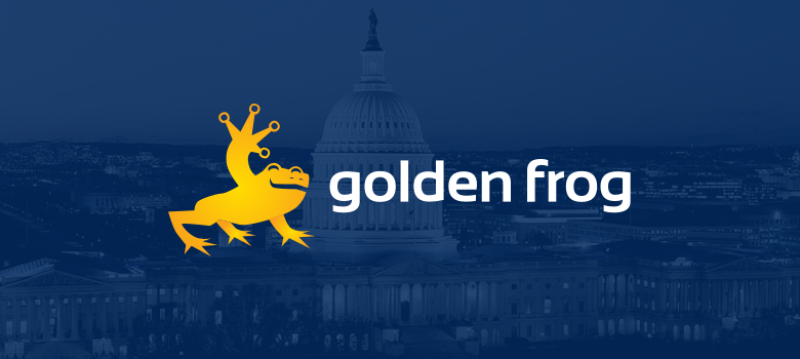 Golden Frog Introduces VyprVPN for Business
TODO ?>
Empowers companies to protect confidential business communications
GRAND CAYMAN, CAYMAN ISLANDS – August 7, 2013 – Golden Frog announced today that it has extended its popular personal Virtual Private Network (VPN) service called VyprVPN to businesses. VyprVPN encrypts Internet connections to protect online privacy, prevent monitoring of online communications and provide access to restricted websites to preserve an open and free Internet.
"Employees' Internet communications are most vulnerable during the "last mile" between their computer and their ISP," said Sunday Yokubaitis, President of Golden Frog. ""By extending VyprVPN to businesses we are helping protect their confidential information while at the same time protecting their privacy."
VyprVPN for Business empowers companies to protect their business communications – one employee at a time. Whether using desktop computers or mobile devices, VyprVPN secures connections to the Internet without sacrificing speed. And, when employees use VyprVPN on their mobile devices, especially when traveling or operating over public networks, they help protect intellectual property and ensure business privacy. VyprVPN for Business provides bundled pricing and easy administration of users.
Golden Frog owns and operates a world-wide network of VPN server clusters in North America, Europe, and Asia. Unlike other VPN providers, Golden Frog is the only company that handles its users' data so that privacy and security are protected from end-to-end.
To learn if a business VPN is right for you, please visit: //business
About Golden Frog
Golden Frog is a global service provider committed to developing applications and services that preserve an open and secure Internet experience while respecting user privacy. With users in over 215+ countries, Golden Frog owns and operates server clusters in North America, Europe and Asia. Golden Frog owns and manages 100% of its own servers, hardware and network to ensure the highest levels of security, privacy and service delivery. Learn more about Golden Frog at vyprvpn.com.