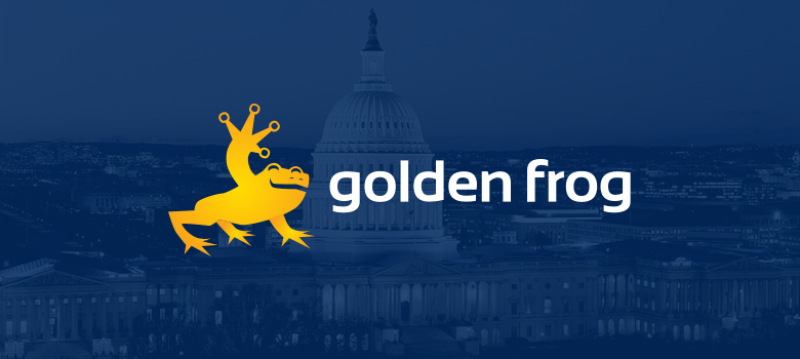 Golden Frog Launches Campaign to Help Save the Panamanian Golden Frog in Support of the Smithsonian's Panama Amphibian Rescue and Conservation Project
TODO ?>
Technology company focused on Internet privacy, security and freedom supports frog that inspired its name, launches campaign to raise funds for critically endangered amphibians.
MEGGEN, SWITZERLAND – June 6, 2016 – Golden Frog, a company that fights for Internet privacy, security and freedom, and the Panama Amphibian Rescue and Conservation Project (Rescue Project), managed by the Smithsonian Conservation Biology Institute, are working together to support endangered amphibians including the Panamanian golden frog.
Through this campaign Golden Frog and the Rescue Project will raise awareness and collect donations to support endangered amphibians, which are being threatened by the deadly chytrid fungus. Funds raised will go toward research being conducted by the Panama Amphibian Rescue Conservation Project, to find a cure for the frogs. Golden Frog has already given a $10,000 donation to this cause, and in addition to that will match every dollar raised throughout the three-month campaign with a goal of $50,000.
"The golden frog of Panama has a deep meaning for us here at Golden Frog, as we named the company after the Golden Frog Coffee Bar we visited in Panama in 1970," said Carolyn Yokubaitis, Co-Founder of Golden Frog. "At Golden Frog we advocate strongly for what we believe in. We're thrilled to support the Smithsonian's outstanding and groundbreaking scientific efforts for a cause that's close to our hearts."
In addition to helping conserve the company's namesake, as a supporter of a free and open Internet, Golden Frog was drawn to work with the Smithsonian due to a shared focus on the open and shared diffusion of knowledge and information.
"We're working on developing methods to reduce the impact of the chytrid fungus, with a goal of one day reintroducing captive amphibians into the wild," said Dr. Brian Gratwicke, coordinator for the Rescue Project and a research biologist for the Smithsonian Conservation Biology Institute. "Outreach campaigns, like this, that raise awareness and support are critical to our research and to helping the public understand how important amphibians are to preserving global biodiversity."
The mission of the Panama Amphibian Rescue and Conservation Project is to rescue amphibian species that are in extreme danger of extinction throughout Panama. The project's efforts and expertise are focused on establishing assurance colonies and developing methodologies to reduce the impact of the amphibian chytrid fungus so that one day captive amphibians may be reintroduced to the wild. Project participants are the Smithsonian Institution, Houston Zoo, Cheyenne Mountain Zoo and Zoo New England.
You can learn more about the collaboration here: /smithsonian-2016
You can make a donation at: https://nationalzoo.si.edu/Support/amphibian-conservation.cfm
About Golden Frog
Golden Frog is a global service provider committed to developing applications and services that preserve an open and secure Internet, a mission that continues to grow in importance as users across the world face privacy threats. With users in over 195 countries, Golden Frog owns and operates server clusters in North America, Europe, South America, Asia and Oceania. Golden Frog owns and manages 100% of its own servers, hardware and global network to ensure the highest levels of security, privacy and service delivery. Golden Frog offers a comprehensive reseller program that provides the best VPN service and deals to resellers and their customers. The company also offers VyprVPN for Business to protect company communications, identity and data, and secure employees' Internet connections in the office or on the road.
Learn more about Golden Frog's vision for a free and open Internet by reading our "Peace, Prosperity and the Case for the Open Internet" vision paper located at www.vyprvpn.com/vision.