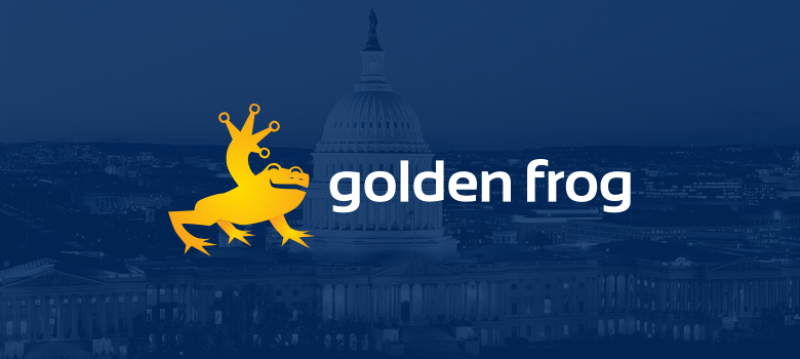 Golden Frog Launches Policy and Advocacy Site
TODO ?>
Company Showcases Core Pillars, with Legislative Analysis and Action Center Resources
Golden Frog this week launched their policy and advocacy page to further showcase their activism arm and core values the company was founded upon. The new page, located at /policy, includes links to educational content, ways to get involved and policy scorecards that hold policy leaders accountable for legislation that impacts the Internet experience for users worldwide.
"Our goal is to better educate the public on issues that impact their daily online experience. We also want to provide technology companies and coalitions a platform that put us all on the same page rather than coming at the same issue from different directions, which has resulted in a confused constituency," said Ron Yokubaitis, Co-CEO of Golden Frog, speaking on the rapid pace at which technology changes compared to other industries. "The technology industry hasn't always been good at advocating for the well-being of our industry, nor in recognizing the implications the digital age has for consumer privacy and access to information. I am hopeful this is the start of that change."
Mr. Yokubaitis, a longtime consumer and industry advocate for data privacy, security and the open Internet, added: "We are adding a technology policy scorecard that will grade actual policy rather than legislators because we firmly believe people who vote against good policy do so out of unfamiliarity with the nuances."
Golden Frog's policy page will feature the scorecards, position papers and content that cover topics related to the company's key issues: Privacy, Encryption, Open Internet, Mass Surveillance and Censorship. Golden Frog's hope is that the policy page will serve as a helpful resource to not only increase awareness, but also prompt engagement from the public and tech community at large in the policy-making process.
Golden Frog's policy page can be viewed at: /policy
Golden Frog's policy scorecards can be viewed at: /policy/internet-policy-scorecards
Golden Frog's vision paper, on which the company was founded, can be viewed at: /about-us/vision-paper
For questions or press inquiries, please contact [email protected]