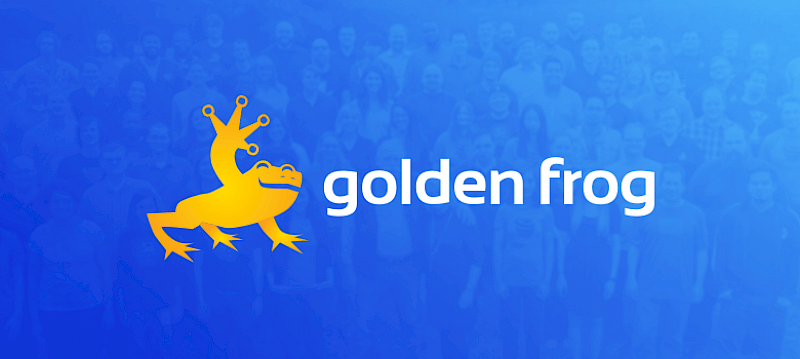 All About Golden Frog: Modern Offices, With A View
TODO ?>
Most employees of Golden Frog and our sister companies work out of brand new, modern offices in Austin, Texas. Located mere minutes from downtown with floor-to-ceiling windows overlooking the gorgeous Austin skyline, our offices offer an open floor plan, café area, on-site gym, bike racks, picnic tables, visiting food trucks and a variety of other great amenities.

Open Floor Plan
The flow of information and ideas isn't stifled in our office because our workspace affords us the opportunity to collaborate without physical barriers. Rather than cubicles, our staff uses semi-private spaces which let our concepts quickly reach the ears of the teams with whom we work closely. Collaboration is encouraged throughout the office! We exchanged opaque walls for conference rooms and offices of glass which welcome in natural sunlight and make it easy to both find a space for collaboration and join team members for meetings.
Café
The café is another open space in the Golden Frog offices which serves as a fantastic spot for in-office happy hours, product launch parties, chili cook-offs, lunch and learn sessions, or just grabbing coffee and a bite to eat with the team. Multiple refrigerators, coffee machines, microwaves, sinks, countertops and other accompaniments in the kitchen let staff store and prepare meals and dine pleasantly—with plenty of elbow room to spare.
The Works
While lounging on comfy couches and stealing away to a not-so-secret nap room for a cat nap on lunch might be necessary, the on-site gym and trails outside the office are a perfect way to invigorate creativity and provide a boost of energy to tackle any busy afternoon.
Local food trucks frequent our office every week, serving everything from tacos to BBQ and more! There are picnic tables in the amenity area outside, which allow us to enjoy lunch on one of Austin's many sunny days.
Our social committee thrives on cultivating great working relationships, so they are constantly arranging events to give employees the opportunity to mingle and collaborate with co-workers.
Golden Frog has a lot to offer—from rewarding careers to a beautiful facility. Check us out today!