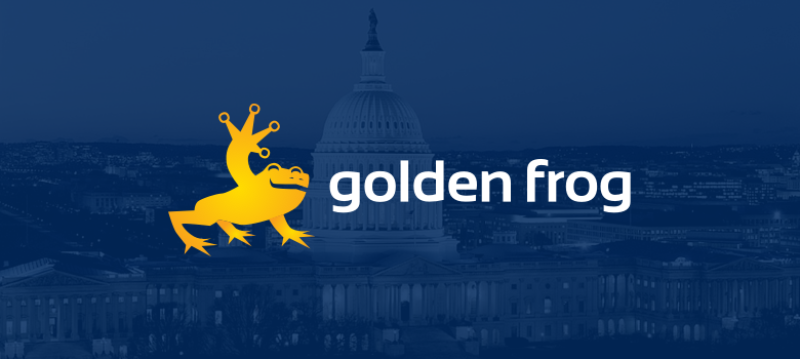 Golden Frog Partners with Free Your Data to Support Data Sovereignty
TODO ?>
Organizations team up to continue their fights for online privacy
MEGGEN, SWITZERLAND – November 23, 2015 – Golden Frog, a company that fights for online privacy and security, and Free Your Data, a political crowd campaign advocating for "data sovereignty," today announced their partnership. Golden Frog will offer Free Your Data supporters a special discount for their VyprVPN personal VPN product, while Free Your Data will feature Golden Frog on their site as part of their campaign.
"We've noticed an alarming trend of free providers in the privacy industry, and the technology industry as a whole, offering products that track, collect and sell user data," said Sunday Yokubaitis, president of Golden Frog. "Customers should demand transparency from their providers, so they can choose how to protect their data. We're thrilled to partner with an organization who shares our values, and to continue our fight for online privacy with Free Your Data."
Golden Frog is a global service provider committed to developing applications and services that preserve an open and secure Internet experience for users around the world. VyprVPN by Golden Frog encrypts users' Internet connections and enables them to thwart the data snooping and inspection of Internet traffic that is regularly practiced by third parties. By encrypting the "last mile" (the connection between the user's device and the Internet backbone), users can better ensure their online privacy and open up an uncensored and secure Internet, no matter where they are in the world. Golden Frog owns the hardware at each of its 50+ VPN server locations and manages its own network, resulting in fast, reliable connections.
"We share the same vision as Golden Frog – we, the citizens, can and must be the defining force shaping our new digital future," Ali Jelveh, Co-founder of Protonet GmbH, points out. "Technology must be used in our interest, whether it's using VPN technologies such as VyprVPN or pushing for transparent access to what companies know about us."
"It's about getting back our data sovereignty,"Elke Jacob of Free Your Data, adds.
Free Your Data is an episode based political crowd-campaign launched in March 2015.  Together with a petition on the global platform www.change.org, Free Your Data fights for a new law demanding data sovereignty for free citizens. More than 62,000 people signed the petition so far. The heart of the campaign are the citizens who want to know what personal information is collected by companies and what they do with it. The net political spokesman of all big parties support Free Your Data.
VyprVPN will be available to Free Your Data supporters immediately at: http://bit.ly/1T1Nt9F
Free Your Data will feature Golden Frog on their website at: https://freeyourdata.org/s02e04/
About Golden Frog
Golden Frog is a global service provider committed to developing applications and services that preserve an open and secure Internet, a mission that continues to grow in importance as users across the world face privacy threats. With users in over 195 countries, Golden Frog owns and operates server clusters in North America, Europe, South America, Asia and Oceania. Golden Frog owns and manages 100% of its own servers, hardware and global network to ensure the highest levels of security, privacy and service delivery. Golden Frog offers a comprehensive reseller program that provides the best VPN service and deals to resellers and their customers. The company also offers VyprVPN for Business to protect company communications, identity and data, and secure employees' Internet connections in the office or on the road.
Learn more about Golden Frog's vision for a free and open Internet by reading our "Peace, Prosperity and the Case for the Open Internet" vision paper located at www.vyprvpn.com/vision.
About PROTONET
PROTONET was founded under the premise that a future in which people own their data is fundamentally more pleasant than one in which we end up in digital servitude. We believe that only by creating products and solutions that people love (infused with a decentralized DNA), such a change can be brought forth.
Today, PROTONET provides a cloud-based social project management platform that integrates communications, files and project management tasks in a single place, giving users a unique choice of where to store their data. Data can be stored on our beautifully crafted hardware-devices with setup in under 5 minutes, or in secure datacenters in Germany under tight data-privacy laws.
PROTONET GmbH was founded in 2012 by Ali Jelveh and Christopher Blum. It was initially started as a result of Europe's fastest crowdfunding campaign of its time and was elected start-up of the year in 2014.  After that PROTONET partnered with investors that are experienced industry experts in the digital economy, advertising, the server industry, and innovation to get on-board and jointly continue the vision. PROTONET is headquartered in Hamburg, Germany. www.protonet.info.
About Free Your Data
Free Your Data is a crowd-based campaign initiated by Ali Jelveh, co-founder of Protonet, and was launched in March 2015. The campaign fights for "The European Data Sovereignty Act:" Any Company with more than 1 million (recurring) users is required to provide a requesting user with all data associated with this user free of charge, without delay and in a machine-readable format.
In early 2016 Free Your Data will be registered as a non-profit organization delivering a platform for public dialogue between citizens with companies and politics, press and science. Free Your Data is headquartered in Hamburg, Germany. www.freeyourdata.org.