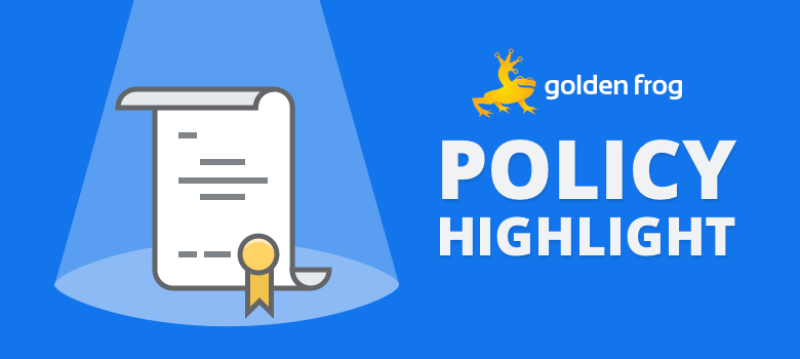 Golden Frog Policy Highlights Offer In-Depth Look at Policy
TODO ?>
As a part of the policy section of our website, we're launching a new content series entitled Policy Highlights! Policy Highlights offer an in-depth look at pieces of legislation related to the bills we've included on our policy scorecards, and provide a way for anyone interested in Internet and technology legislation to dive in and gain an in-depth understanding of the issues.
As a company, we've been involved in technology-related policy and legislation since our establishment. Because we started as one of the first 50 ISPs back in 1994, protecting the open Internet and online privacy is near and dear to us. Over the years, we've participated in conferences, panels and other events to show our support of an open Internet and online privacy.
We know that many people are interested in the Internet and technology bills being enacted, but they often don't know where to look for background and information on the issues. Awareness empowers people, so we created this series to share our insights into policies, shedding light on how  they impact the everyday Internet experience for users around the world.
With all of our policy initiatives, we hope to serve as an innovator in the nation's technology sector and as a leader in Internet data privacy rights. More than that, we hope to keep privacy moving forward in a positive direction.
View Our Policy Highlights
More coming soon!