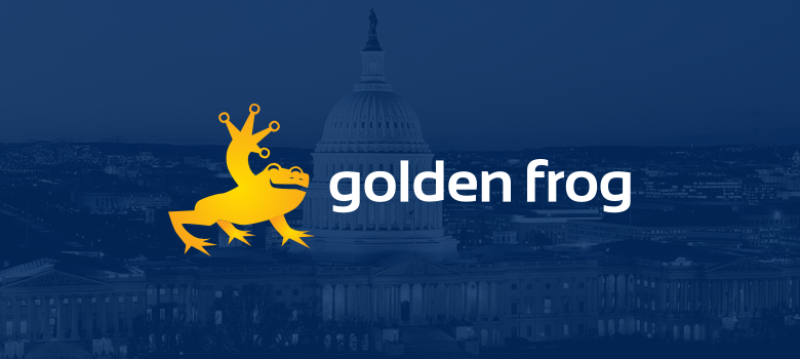 Golden Frog Shares Its Vision for the Future of the Internet
TODO ?>
AUSTIN, TX– South by Southwest Interactive (SXSW) – Golden Frog, a global software and Internet application development company, shared its vision today for the future of the Internet. Golden Frog's co-CEO Ron Yokubaitis published a vision paper explaining how global peace and prosperity are tied to an open and free Internet and issued a call to action to all netizens of the world.
"Golden Frog was created because we are passionate about helping ensure an open and secure Internet experience while protecting the individual's privacy. We believe that global peace and prosperity are possible only by ensuring the Internet remains open and free," said Ron Yokubaitis, co-CEO of Golden Frog. "There have been many threats against an open and free Internet under the guise of privacy and protection policy. Netizens, the citizens of the Internet, around the world need to understand the real threats and what can be done to protect our freedom."
An open and free Internet is under attack from multiple fronts. Governments have been pressuring technology service providers to ban access or restrict availability of certain content. In response to this pressure, large Internet service providers are preventing users from accessing content or websites that their governments declare illegal. Even without government pressure, many companies and service providers are restricting access to content that they deem offensive or derogatory.
Legislative efforts to protect an open and free Internet have failed. In 2005, the Federal Communications Commission (FCC) set out to keep the Internet open to consumers by establishing the Open Internet Order which led to the establishment of the Internet neutrality concept. Internet neutrality has not benefited consumers to the degree the FCC had hoped, and it no longer provides the full protection that it originally set out to or that consumers were led to believe.
Golden Frog believes that netizens are left with no choice but to find ways to protect themselves while online. "Encryption is the second amendment of the Internet," said Yokubaitis. "It is quite simply the right to defend oneself." From text messaging to browsing history to online downloads, netizens have the right to communicate and view information privately. An open and free Internet requires that tools be made available to help consumers protect their private data. The right to encryption is a necessary policy if we are to defend the right to privacy.
Golden Frog promotes innovation as the answer and is fighting for an open and free Internet by creating tools and resources for autonomous people to explore ideas, communicate, search, find, and exercise their right to free expression and commerce. This cause is not just a fight to ensure free speech, but a strategy for global commerce, international understanding and ultimately peace and prosperity.
To join the cause download a copy of the vision paper "Peace, Prosperity and the Case for the Open Internet" at /vision.