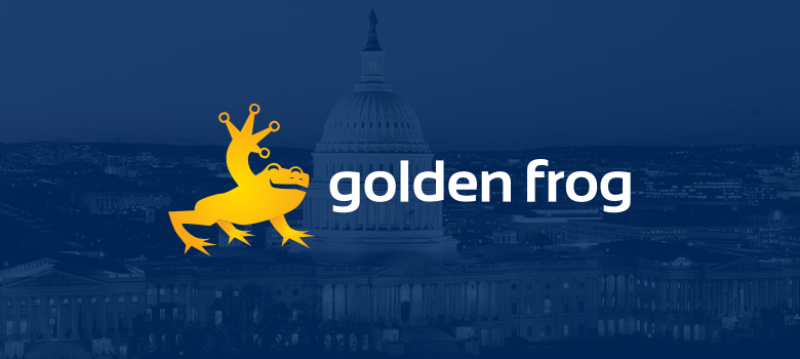 Golden Frog Releases Advanced VPN Apps to Make Online Security Easier
TODO ?>
New VyprVPN apps feature an intuitive UI, better performance, speed and ease-of-use
MEGGEN, SWITZERLAND – November 20, 2013 – Golden Frog today strengthened its position in the internet security market by releasing new, re-imagined VyprVPN 2.0 Apps for Windows, Mac, Android and iOS. The leading software and application development company launched a major redesign project last year to improve their desktop and mobile VPN apps and make them more simple and accessible to the growing number of people seeking secure internet connectivity. The new 2.0 apps offer the world's fastest VPN experience, encrypt the internet connection on any device, and give users easy access to more than 700 servers in Europe, United States, Asia and Oceania
VyprVPN is a personal VPN (Virtual Private Network) service that encrypts internet connections to defeat the monitoring of online communications, protect online privacy, and preserve an open and free internet by providing access to restricted websites. Most people connect to the internet via Wi-Fi at some point, but only a few understand how a personal VPN helps to protect them. Golden Frog's new apps dramatically simplify and streamline the experience, so anyone can encrypt their internet connections, protect their online privacy, and have access to an open and free Internet experience.
"Better, faster app access to internet security services is essential for today's digital world," said Sunday Yokubaitis, President of Golden Frog. "In the wake of the revelations about government surveillance and cyber-attacks on high-profile companies, more people and businesses are starting to take digital security seriously. We are dedicated to demystifying internet security, and giving people the tools they need to protect their data and privacy."
User feedback fueled many of the improvements in the new apps' interface and functionality. In addition to the fastest VPN service in the world, with these re-imagined 2.0 apps, VyprVPN users get time-saving features like one-click connect, one-tap server location selection, and the ability to ping test to choose the fastest server available.
The new apps are faster, more stable, easier-to-use, and more intuitive than ever before. This ensures better VPN performance, more security and increased reliability for users at home, on the road or in the office. Golden Frog's engineers are focused on ensuring that the new 2.0 apps sync better with their VPN network for faster, more stable connections. They've also made the new apps as consistent as possible across all platforms, so the experience is seamless across desktop and mobile devices.
"We continue to add great new features to make VyprVPN better and easier-to-use for our customers," said Philip Molter, Golden Frog's Chief Technology Officer. "We believe that internet security and privacy should be easy, accessible and an integral part of people's everyday lives. Our elegant and intuitive 2.0 apps for desktop and mobile are perfect for anyone that wants to secure their data, privacy and internet use."
New Features in the VyprVPN 2.0 Apps Include:
Sleek, intuitive, customizable 2.0 interface
Fast one-click connection to VyprVPN
Faster server selection from locations in 40+ countries in Europe, United States, Asia and Oceania
Ping test to find the fastest VyprVPN server in seconds
Ability to select favorite servers for quick access
Speed Graph to easily monitor upload and download speeds
Unlike most VPN providers, Golden Frog owns and manages 100% of its own servers, hardware and global network to ensure the highest levels of speed and service delivery. All VyprVPN users get unlimited bandwidth and connection speeds and are able to switch between VyprVPN servers worldwide without restrictions or download caps at no additional charge.
All VyprVPN subscribers can now download any of the free VyprVPN 2.0 Apps and login using their username and password. The Windows and Mac apps are available on the Golden Frog website and the iOS and Android apps can be downloaded from your app store.
To learn more about VyprVPN and sign-up, please visit: /
About Golden Frog
Golden Frog is a global service provider committed to developing applications and services that preserve an open and secure Internet, a mission that continues to grow in importance as users across the world face privacy threats. With users in over 215+ countries, Golden Frog owns and operates server clusters in North America, Europe and Asia. Golden Frog owns and manages 100% of its own servers, hardware and global network to ensure the highest levels of security, privacy and service delivery. Golden Frog offers a comprehensive reseller program that provides the best VPN service and deals to resellers and their customers. The company also offers VyprVPN for Business to protect company communications, identity and data, and secure employees' Internet connections in the office or on the road.
Doing its part to protect privacy, Golden Frog has launched additional server clusters in more than a dozen cities around the globe so far this year, with more servers to come in 2013. Learn more about Golden Frog's vision for a free and open Internet by reading our "Peace, Prosperity and the Case for the Open Internet" vision paper located at www.vyprvpn.com/vision.