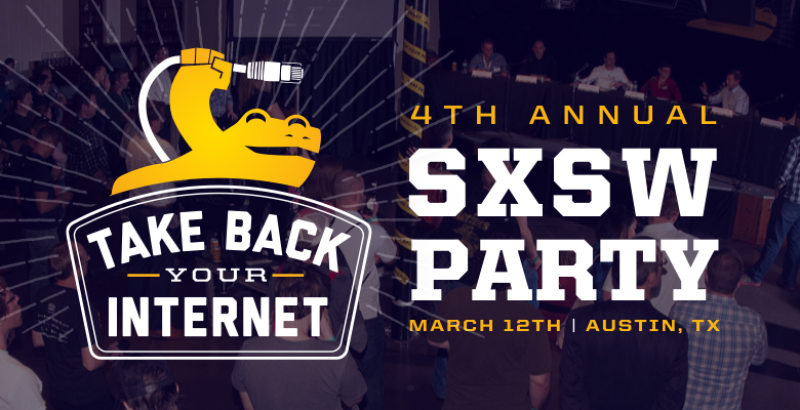 Golden Frog's 4th Annual "Take Back Your Internet" Event at SXSW 2016
TODO ?>
We'll be hosting our annual SXSW Take Back Your Internet party on March 12 this year. This will be our 4th Take Back Your Internet event, with previous panels focusing on net neutrality and open Internet and online privacy and security.
This year, Take Back Your Internet is all about backdoor encryption. Encryption has been a hot topic around the world, with a fierce debate taking place between the governments wanting backdoors into encrypted communications and the tech companies building this technology into products.  We'll be addressing backdoor encryption head-on with our panel, exploring why encryption is an essential tool, the need for safeguarding security and how this issue is affecting people and the right to privacy around the world. Our panel will include leaders from the policy, grassroots and business side, all providing unique perspectives on the issue.
DETAILS
Panel Topic: " Do You Have the Right to Privacy? The Backdoor Encryption Debate"
Panelists:
Congressman Will Hurd – 23rd District of Texas
Nuala O'Connor – President & CEO of the Center for Democracy & Technology
Daniel Schuman – Policy Director of Demand Progress
Philip Molter – Co-CTO of Golden Frog
Jim Cardle – Publisher & CEO of TexmasInsider.org
Alan Fairless – Co-Founder & CEO of SpiderOak
Event Information:
WHAT: Take Back Your Internet Party & Panel – 2016
WHEN: Saturday, March 12 from 6-10pm
WHERE: Cooper's Old Time Pit BBQ, 217 Congress Ave, Austin, TX 78701
RSVP:
You can learn more on our event page.