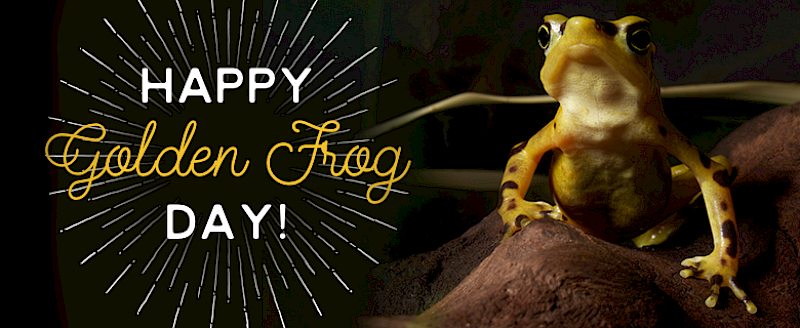 Happy Panamanian Golden Frog Day 2016
TODO ?>
August 14 is the 6th annual Panamanian Golden Frog Day! This day is celebrated in Panama and around the world, and is held in honor of the frog that's a cultural and ecological symbol for Panama. This year's celebration includes many events and festivities, which are detailed in a wonderful guest blog post by the Panama Amphibian Rescue and Conservation Project.
Golden Frog is named after the Panamanian golden frog, so this day is near and dear to our hearts. Our Co-CEOs Ron and Carolyn Yokubaitis stopped in Panama while traveling through Central America in 1970, at which time they visited the Golden Frog Coffee Bar. When they returned to Panama for an Internet conference in 2008, they wondered if Golden Frog Coffee Bar was still around. Sadly it wasn't, but they decided to name their newest Internet business after the golden frog of Panama.
In honor of this connection, as well as a strong mission alignment, we are currently collaborating with the Smithsonian's Panama Amphibian Rescue and Conservation Project to raise money to support the critically endangered golden frog. The golden frog was last seen in the wild in 2009, and the population has been devastated by a disease that's spread among the frogs.
We are in the final weeks of our campaign, and matching all funds raised up to our $50,000 goal. We only need $8,750 in donations to reach this goal – please help us get there before it's too late! Donate Now. 
Image Credit: Brian Gratwicke