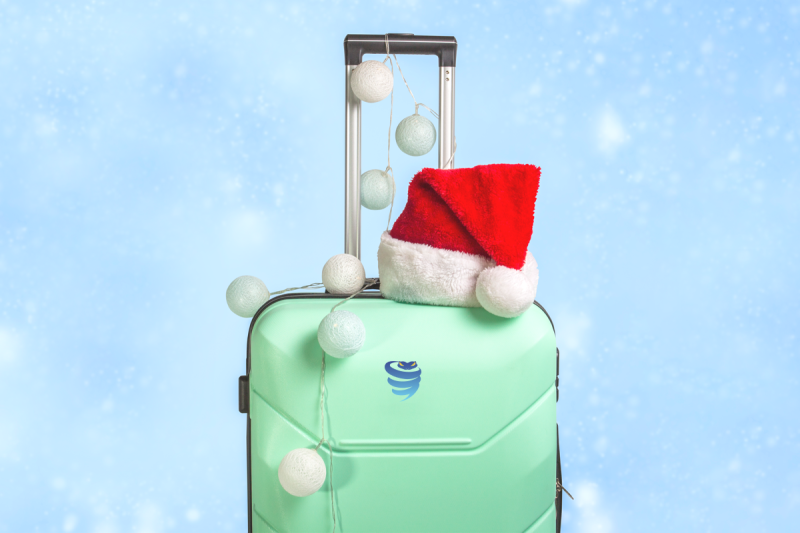 Holiday Travelers: Here's Why You Should Start Using a VPN Right Now
TODO ?>
The holidays are coming. So are hackers, identity thieves...and mistakes like locking yourself out of your bank account while traveling. Not a recipe for the happiest holiday season. The good news is that a VPN can protect your data and your budget. Here's why you should add a VPN to your holiday shopping list today. 
1. VPNs Can Protect You from Yourself
When you're in a foreign country, skipping to your home bank in person is slightlymore complicated. So it's no wonder online banking is a must-have for travelers. The problem? If you bank online from a foreign country, there's a real danger you might trigger a fraud alert and freeze your account.
More and more companies are monitoring their customers on various platforms, and banks are no different. If you access your account from a foreign country, your bank might lock you out (thinking you're a hacker). When you use a VPN for holiday travel, you can pick a server in your home country and bank from there, making it appear to your bank that you've never left home. With a VPN, you can pay for food and transit on the road in peace.
2. VPNs Can Stream the Best Holiday Movies from Anywhere in The World
Got favorite holiday movies back home? You've probably tried watching them while traveling. That means you've probably already been geoblocked. What is geoblocking? It just means you can't stream shows from your home country when you're abroad in some cases. To get around geoblocking, you can use a VPN online to choose a server back home and watch the shows you love. Anywhere.
3. VPNs Can Help You Get around Blocked Websites
Mass Surveillance? Blocked sites like Facebook, etc.? These Internet inconveniences aren't just for China and Russia—they're more globally common than you think. If you want to stay connected while you travel, a VPN can keep you seamlessly on the grid wherever you go. Just use your VPN when you go online. If you're worried about the government detecting and blocking your VPN, use your VPN's cloaking feature (VyprVPN uses Chameleon Protocol).
4. You Can Secure Your Data on The Road When You Travel with a VPN
You might use public WiFi with your computer when you travel— but you'll definitely use public WiFi with your phone (if you don't specify otherwise). That's because 5G switches between cellular and WiFi service unless otherwise specified. While this is undeniably convenient, it also, unfortunately, opens the door to your phone potentially using a hacker's WiFi without you even knowing about it. That means a hacker would see everything you see while using their network, and they could steal your data without even hacking your device. When you travel with a VPN, you can protect yourself from WiFi hackers by hiding your IP address and more to keep your activity private and your data safe wherever you go. 
5. Browse Like No One's Watching
Dodge government surveillance and gain access to blocked websites, whether abroad or at home. Enjoy top-tier privacy and security thanks to a VPN—and if the company is a "no log" company, even the VPN company can't see your activity.
6. Protect Any Device
You're probably reading this on your phone—and if you're on public WiFi, a hacker might be reading this with you. Hackers can steal data from your mobile device, and mobile hacks are expected to rise in 2020. A VPN can help secure your data on phones, tablets, or even Apple TVs. 
There are some disadvantages to using a VPN, however. Here's what to look for when buying a VPN, and how to avoid common VPN pitfalls: 
Common VPN Drawbacks
Some Countries Don't Allow VPNs
More countries than ever before are barring VPNs. Fortunately, VyprVPN has a proprietary VPN protocol called Chameleon Protocol, which can help you get around VPN blocking during the holidays. 
Free VPNs aren't so free 
It's tempting to get a free VPN or free proxy. But the reason so many VPNs are free is that many make a profit by selling your data. Worse, some "Free VPNs" aren't VPNs at all—they're "honeypots" made to gather user information. Look for a No-log VPN that doesn't retain any of your data and thus never sells it, even if the VPN isn't free. Because when it's free, you become the product. 
The holidays may never be completely stress-free—but they can be 100% disaster-free, and a VPN can help you get there. Want to stream in heavenly peace this holiday season? Try VyprVPN 80% off for a limited time only.