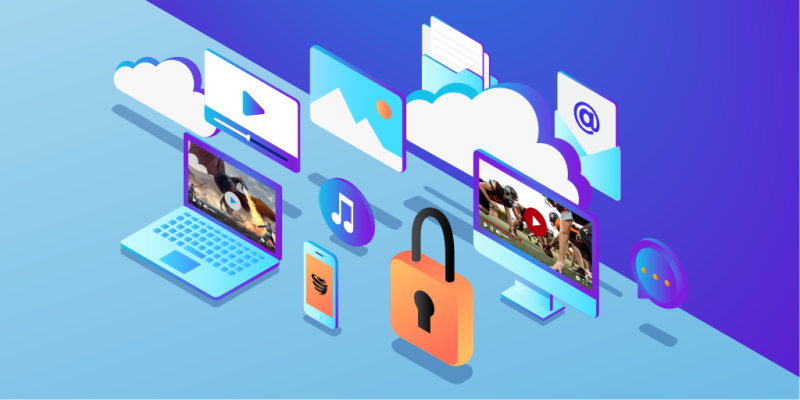 How to Choose the Best VPN for Streaming
TODO ?>
During this uncertain time of the COVID-19 pandemic, many of us are doing our best to stay busy and entertained as we practice social distancing and isolate at home. So it's no surprise that many are streaming TV shows and movies on Netflix, Hulu and a host of other streaming service providers.
Even before the coronavirus crisis hit, streaming TV shows and movies was immensely popular. In fact, last year, 74% of US consumers had streaming service accounts — an increase of more than 20% in just four years.
What's also really popular is using a virtual private network, or VPN, to stream. People around the world are taking advantage of the many features that VPNs offer to improve their streaming experience and avoid the frustrations that come with connecting to a conventional Wi-Fi network.
Top 10 Features to Consider When Selecting the Best Streaming VPN
But how to pick a VPN for streaming? There are a multitude of factors to consider, so we've gathered them together for you. Here are the top 10 features to look for when selecting a VPN for streaming.
1. Speed
No one wants to put up with buffering or throttling put in place by internet service providers (ISPs) when they're trying to tune in to the latest episode of Succession,The Mandalorian or Fleabag. You want a fast VPN for streaming so you can sail past those roadblocks and allow you to quickly connect and stream uninterrupted while enjoying maximum bandwidth.
2. Privacy
What you stream is your business, pure and simple. A VPN, particularly a high-quality one, ensures that no one sees what you're watching. Sign up with a VPN that has 256-encryption and an exceptional logging policy. And by that we mean that they do no logging whatsoever. A no-log policy, certified by an independent audit, ensures that no one can view your Internet traffic, not even the provider.
3. Access to Content
We all have our favorite shows, movies, sports and music that we like to stream (not forgetting those that are binge-worthy). But you can't always watch what you want due to restrictions put in place by streaming service providers, such as geo-blocks and blackouts. A really good VPN allows you to be able to access all of it, whether you want to tune into Netflix, Hulu, Amazon Prime, HBO or the BBC or listen to music on Youtube and Spotify. 
4. Security
Most people don't think about identity theft when they're caught up in the moment of watching The Irishman or a nail-biter sporting event. But the fact is, while you're streaming over a network that's not VPN protected, hackers can gain access to your personal information. A VPN keeps your data safe. Ideally, you should subscribe with a VPN service provider that owns every piece of hardware. That way, you greatly reduce the risk of a third party gaining access to your data.
5. Evade Censorship
A VPN allows you to bypass all kinds of bottlenecks, such as censorship geo-blocks, so you can access your favorite content wherever you are in the world, whether you're traveling or at home. Make sure your VPN uses a high-security protocol (a set of rules that negotiates your connection to the VPN servers) that's designed to combat censorship. That way, governments can't even see that you're using a VPN.
6. Connect to Multiple Devices
These days, people stream shows and movies on numerous devices, such as a smart TV, an Android Google Pixel or an iPad Pro. They want the convenience of using their VPN wherever and however they stream content. The best VPNs can connect to a handful of devices simultaneously.
7. Kill Switch
Even the most cutting-edge VPNs can occasionally fail. When that happens, you want to continue to be protected which is why you need a Kill Switch. It constantly monitors your connection, and if it's disrupted, the Kill Switch goes into action to block your app or device from accessing the Internet.
8. Ease of Use
Before you start using a VPN, read customer reviews to see if the VPN app is easy to use. Can it be downloaded quickly and easily? Is the interface easy to navigate? How soon can you be up and running? A well designed VPN allows you to quickly connect so you can spend your time streaming instead of troubleshooting.
9. Many IPs, Many Servers
The best VPNs have plenty of IP addresses available to swap with yours so you can stream in privacy. Another thing to look for is the number of servers that a VPN provider owns and where they are located. Needless to say, you want to go with a provider that has many, many servers spread out all over the world. That way, you can quickly and easily connect wherever you're streaming.
10. Value
Choose the VPN that best meets your needs and is within your budget. Whatever you do, don't go with a free VPN. Free services come with advertising campaigns that collect and sell users' personal data. Most VPN services aren't costly, and the subscription fee you'll pay for a high-quality VPN is well worth it. Be sure to sign up with a VPN provider that offers a money-back guarantee so you can get a refund if there's a problem.
VyprVPN Rated Best VPN for Streaming
When it comes to selecting a VPN for streaming, we believe that VyprVPN surpasses all other VPNs on the market. It has all the features mentioned above and then some. But you don't have to take our word for it. VPN Tester, a widely trusted review site, recently concluded that VyprVPN is indeed the "Best VPN for Streaming." (Read the full review here.)
Based on feedback from its readers and more than one million verified readers' opinion, VPN Tester gives VyprVPN a score of 9.6 when evaluated for speed, privacy, features, customer support and price.
"VyprVPN offers the best support for 'streaming abroad' and has noticeably optimized its own network for streaming," the review states. "No other VPN service supports more streaming platforms than VyprVPN, and, of course, all users are 100% secure."