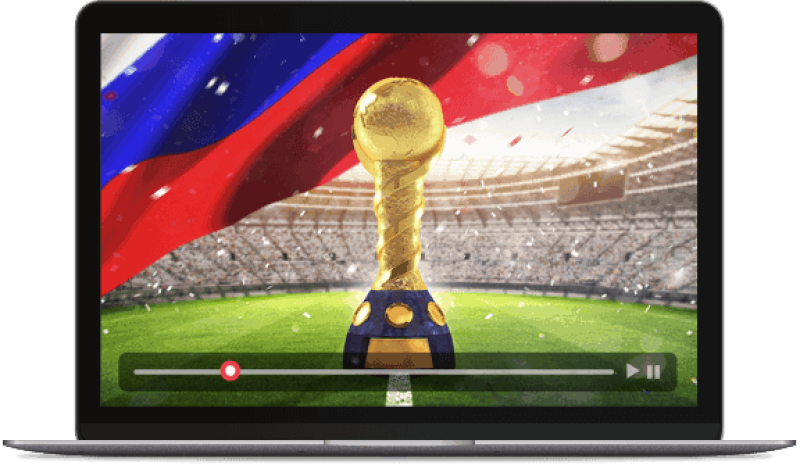 How to Improve Your 2018 World Cup Viewing Experience
TODO ?>
For avid sports fans, streaming events online with a VPN is absolutely essential. VPN technology enables you to bypass geo-restrictions in order to view live sporting events and sites from anywhere in the world. A VPN allows you to watch sports regardless of local blocks or Internet censorship. Not only that, when you encrypt your connection with a VPN, you're also securing your connection, keeping you safe from hackers and snoops or throttling performed by your ISP.
Easily stream sporting events using a VPN with these five simple steps:
Sign up with a trusted VPN service. VyprVPN offers top speeds and access to a free and open Internet. And as a bonus, we are giving World Cup viewers access to a 40% Off Annual Special!
Download your VPN and launch the application on your preferred device(s).
Select a server to connect to. VyprVPN lets you choose from over 70 server locations around the world.
Visit the website you'd like to stream your sporting event from.
Watch your favorite team without restrictions and at top speeds by using a VPN!
World Cup 2018 Viewing Guide
The 2018 World Cup in Russia kicks off on June 14th and will spread across 11 different cities throughout Russia before ending in Moscow on July 15th in the historic Luzhniki Stadium. In the 21st edition of FIFA's most watched tournament in the world, Germany will attempt to make the record books and be the next team since Brazil back in 1958 & 1962 to win back-to-back World Cup titles. With an estimated 3+ billion viewers there are a number of broadcasting options to use to catch all 64-matches live in action. Here are a few streaming sites recommended by VyprVPN, with limited coverage also flagged for convenience.
Top Pick:
BBC iPlayer* (Only 33 of 64 Matches)
By connecting to a UK server, you are able to instantly obtain live access to over 30 key matches in the 2018 World Cup on BBC iPlayer for FREE (No Subscription Required). With the application available on all major platforms, and VyprVPN supporting multiple devices under a single subscription, you can get access to quality coverage no matter your location. For access to other UK broadcasts for the Tournament check out our extensive US Coverage tips!
US Coverage:
Fox Sports Go
With Fox owning the rights to US coverage for the FIFA World Cup, they will be streaming all 64 matches live. Be aware that options will be limited unless you also have access to a US cable provider. If you are in this category, access via Hulu and SlingTV which are both supported by VyprVPN are also available for access to all the action.
Other Live Streaming Services:
A number of popular streaming services that offer "Live" options will also permit you access to US coverage of the FIFA World Cup including:
Hulu Live
YouTube Live
PlayStation Vue
Directv Now
Games to Watch in Group Stage
1. Russia vs Saudi Arabia, June 14th at 9 AM CST
With Russia kicking things off in the first match of the World Cup, this is a no-brainer. With the home country behind them, the opening games are always a thrill to watch as they work towards a chance at victory.
2. Portugal vs Spain, June 20th at 12 PM CST
Spain is looking to rebound from a disappointing outing in the 2014 cup, and a high-caliber match-up against Portugal is a must watch in the group stage. It will be interesting to see if Spain can get past the defending European champions headlined by Cristiano Ronaldo in Portugal.
3. England vs Belgium June 28th at 12 PM CST
With Harry Kane and Raheem Sterling leading England into a star-studded showdown against Belgium and both teams expected to advance, a lot is at stake between these two countries. Being the last game of the group stage, it could very well decide the outcome of takes the crown in Group G.
Improve Privacy, Speed and Access with a VPN for Sports
A VPN is essential for anyone who wants to watch the 2018 World Cup, as a VPN improves your privacy, speed and access. VyprVPN is the leading VPN for sports streaming, and keeps your connection secure and your privacy intact while you view sporting events online. A VPN also enables you to watch your favorite games and matches even when you travel around the world, as it allows you to bypass any local blocks or restrictions in place. VyprVPN offers 700+ servers to choose from, located in over 70 global locations.
Apps to Stream the 2018 World Cup on All Your Devices
VyprVPN includes apps for Windows, Mac, Android, iOS, TV and Router, so you can enjoy streaming sporting events online both at home and on the go. With apps for all of your devices, you can now enjoy unrestricted and secure access to sporting events on your desktop, mobile or TV at all times.