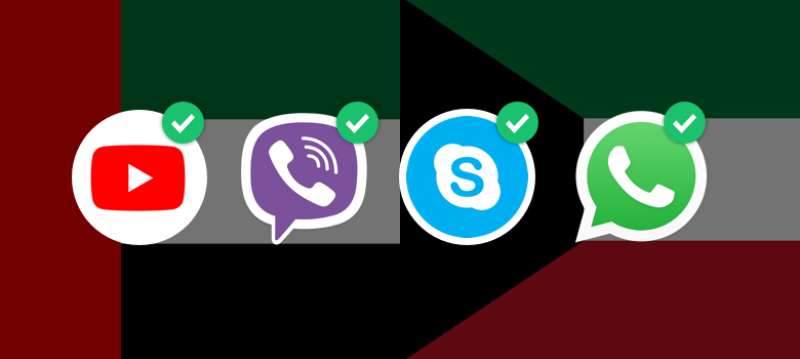 How To Unblock WhatsApp Calling and YouTube in UAE and Kuwait
TODO ?>
How To Access WhatsApp and YouTube? 
Are you struggling to use apps like WhatsApp, Viber, or Skype in UAE and Kuwait? This is because the government currently blocks access to these apps.  Similarly, some content on YouTube – which can be a vital source of news and music – has also been blocked.  
Despite the regulations, you can still join the conversation without paying for a dubious app like C'Me or racking up fees on traditional calling plans. VyprVPN lets you connect to a different country virtually in order to bypass censorship controls.
5 Easy Steps to access WhatsApp and unblock YouTube content:
Sign up for a VPN service. VyprVPN offers a variety of different VPN protocols, including our proprietary Chameleon™technology, which keeps your internet access protected. 
Download our VPN on your preferred device(s). 
Launch VyprVPN and log in with your credentials. 
Choose which server to connect to. VyprVPN lets you choose from over 70 server locations around the world. 
Use WhatsApp and YouTube as you usually do, and enjoy an unrestricted, free and open Internet experience. 
A VPN Frees You to Explore the Open Internet 
Not all VPN services work in UAE and Kuwait, especially not would-be free VPN services that can come loaded with spying software. When you encrypt your connection with VyprVPN, all your browsing habits and communications are secure and private. Only you know what content you access and who you talk to. This means you escape blocks imposed by Etisalat and avoid censorship while using a VPN in UAE. A VPN also secures your connection, so you don't need to worry about hackers or the government intercepting your communications or violating your privacy. 
Select from dozens of server locations across North America, South America, Europe, Asia, Africa or Oceania to experience the Internet with no restrictions from anywhere in the world. Get started with VyprVPN now!