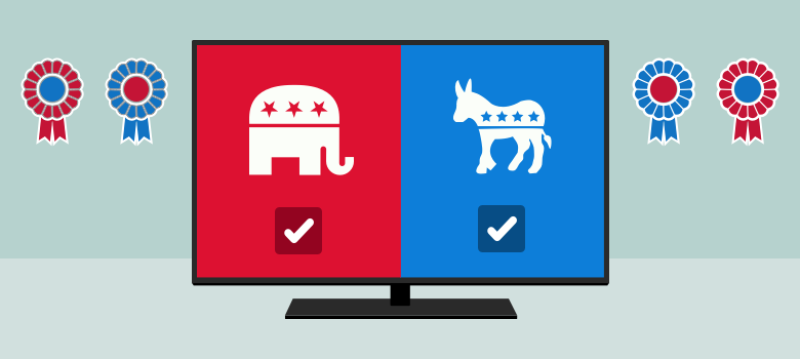 how-to-watch-2016-us-election-with-vpn
TODO ?>
The United States Presidential Election
The United States presidential race is on, and is coming to an end next week. On November 8, 2016, the final votes will be cast in the US presidential election. When most wake up on the 9th, the 58th president of the United States will be announced. The 2016 presidential election has been one of the most controversial elections to date, and has been a topic of conversation around the world. The presidential candidates are Hillary Clinton for the Democratic Party, Donald Trump for the Republican Party, Gary Johnson for the Libertarian Party, Jill Stein for the Green Party and Evan McMullin as an Independent Presidential Candidate.
Improve Your Viewing Experience with a VPN Election
The 2016 US presidential race has been described as one of the most historic presidential elections in most peoples' lifetime, with the front runners being Hillary Clinton and Donald Trump. Unfortunately, there are many people living or traveling abroad and may be unable to watch coverage of the US presidential election. At Golden Frog, we believe in a free and open Internet for everyone. By using a VPN, users are able to stay up-to-date on the election coverage and final election results.
A VPN allows you to select your server location to access the election broadcast of your choice – whether that be in your home country or another nation around the world. Generally broadcasts are tailored to the country they're shown in, but using a VPN allow you to select which country's coverage you want to see. For example, if you're traveling in Europe but want to watch the US coverage, a VPN can help. A VPN can also improve your speed while viewing the election, as it bypasses throttling and congested networks to acheive the fastest speeds from any location.
Using a VPN to Watch the Election
In order to use a VPN to watch the 2016 US presidential election coverage, simply follow these 4 steps:
Sign up for a VPN service. VyprVPN offers a variety of different VPN protocols and doesn't use third-party servers.
Download your VPN and launch the application on your preferred device(s).
Select a server to connect to. VyprVPN has a number of server locationswithin the United States and 70+ around the world.
Use the Internet and your apps to watch coverage of the presidential election.