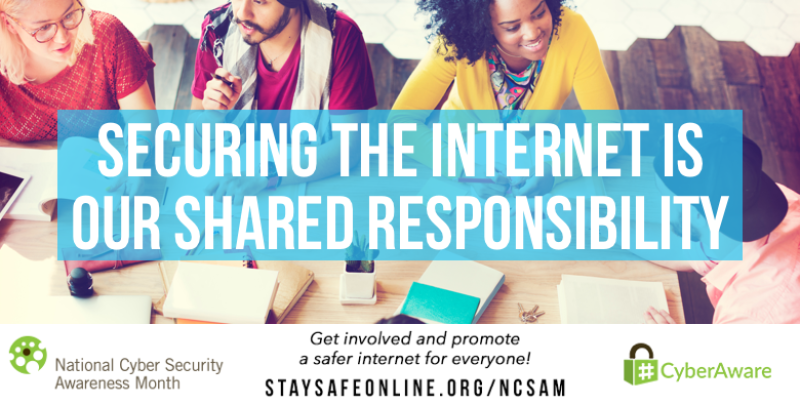 National Cyber Security Awareness Month: October 2017
TODO ?>
October is National Cyber Security Awareness Month (NCSAM)! This annual campaign takes place in the United States, and 2017 marks the event's 14th year. NCSAM is sponsored by StaySafeOnline.org, and is supported by the US government. The goal of National Cyber Security Awareness Month is to raise awareness about the importance of cybersecurity and being safe online. This year's theme is Our Shared Responsibility.
Week 1: Stop.Think.Connect.™: Simple Steps to Online Safety
Week 2: Cybersecurity in the Workplace is Everyone's Business
Week 3: Today's Predictions for Tomorrow's Internet
Week 4: The Internet Wants You: Consider a Career in Cybersecurity
Week 5: Protecting Critical Infrastructure from Cyber Threats
In today's day and age, so much of your life takes place online that your Internet privacy and security are more important than ever. It's important to be aware of the risks, and to learn what tools are available to better protect your privacy. We'll be sharing tips and content throughout the month to help you stay safe online, and hope you'll join us in re-sharing this vital information. You can join the conversation online using the official NCSAM hashtag: #CyberAware. 
Every Day Steps Towards Online Safety
To kick off the month here are a few tips on this week's theme, Every Day Steps Towards Online Safety:
Always use HTTPS: Be sure your URL begins with HTTPS (as opposed to HTTP) whenever you are browsing online. HTTPS indicates your conneciton is secure, and is a quick/easy way to protect your privacy.
Beware of Unsecured Wi-Fi: Public Wi-Fi networks are often unsecured, meaning your privacy is at risk whenever you connect to these networks. Always think before you connect to an unknown network, and ensure to take measures to protect yourself when using Wi-Fi (Using a VPN is a great way!)
Use a VPN: A VPN, or virtual private network, is a tool that encrypts your Internet connection to secure it and protect your privacy online. A VPN ensures no one – not your Internet provider or a snoop – can see what you're doing online (including websites you visit, personal details, communications).
Happy National Cyber Security Awareness Month!