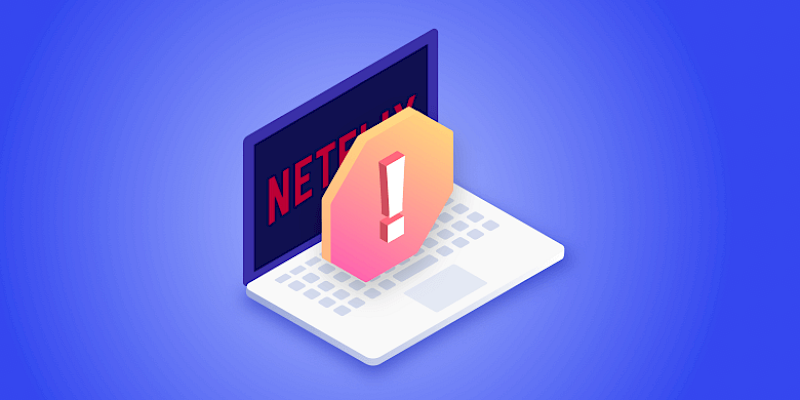 How to Get Around a Netflix Proxy Error with a VPN in 2021
TODO ?>
Fixing a Netflix Error with a VPN
A Netflix proxy error refers to an error message shown to Netflix users who are logged into Netflix while using a service which changes their IP address. According to the Netflix website, the error will say the following: "You seem to be using an unblocker or proxy." Many tools or services that change your IP address and make it appear as though you are browsing from a different location will cause Netflix to return this error. This includes proxies, VPNs and unblockers. 
Netflix shows the error message when it detects that a user has changed their location. Because Netflix catalogs are location-based and vary by country, Netflix uses your IP (location) to provide you with the right content. The error often shows when Netflix identifies that the service is not being used in the location it says it is. More recently, rather than showing this error when a VPN or proxy is detected, Netflix has instead started blocking pieces of geo-specific content. So, if you are attempting to use a VPN to watch a show available in another geo and Netflix identifies this, they may not show the proxy error but instead prohibit you from seeing the content that is geo-restricted in that library but still show the universally available titles. Either way, the good thing is that it is possible to bypass the Netflix proxy error. But to do so, you need to use a tool that's taken specific measures to get around the proxy error. One effective tool is VyprVPN. 
How To Fix The Netflix Proxy Error
Netflix is a massive international corporation, with shows and libraries available from a large number of countries around the world. Netflix uses a person's location, determined by IP address, to decide what content to show them when they sign in. Many internet users choose to use a VPN, or virtual private network, when they watch Netflix. This enables them to change their IP address and appear to be browsing from a different location than they are. This allows viewers to watch shows from other countries than where they reside. People also often use VPNs when they travel, in order to access their home Netflix catalog from abroad. 
In recent years, however, Netflix has begun blocking people from using these VPN or proxy services to access their site. If you receive this Netflix Proxy Error, or it appears Netflix identified your proxy or VPN service and blocked you, there are some things you can do to fix it. Follow these 8 steps: 
Clear your browser's DNS cache 
Log out of all your Google accounts. Google caches IP addresses, which may be revealing your true location even if using a VPN or proxy to access Netflix. 
Disable all location services in your browser. Also disable any location services in use on your computer or mobile device.
Clear your browser's cookies, cache and temporary stored files. 
Disconnect, then reconnect to your selected VyprVPN server location. This will give you a new IP address, which often helps fix the error. 
Connect to a different VyprVPN server location if it is possible. If there is only one server location in the service area you are looking to use, skip this step. 
Change your device's time zone to the provider's service area and adjust the time to local time. 
If you are connected to a wi-fi network and have access to the router, rename your wi-fi network name (SSID). Add "_nomap" to the end of the name, which will opt your network out of Google's geolocation services. If you do this, you will need to reconnect your device to the new network to use the internet after.
Please note that it's not a sure thing that geo-restricted services will work for Netflix. Sometimes, factors on Netflix's end can prevent access while you are connecting via a VPN. If for some reason these steps do not help to fix the Netflix proxy error, the best next step is to contact Customer Support. VyprVPN's support team works 24/7 and is available to answer your questions right away and help you fix the Netflix proxy error. 
Questions on Bypassing the Netflix Proxy Error
Do you have a question about bypassing the Netflix proxy error? Keep reading to find the answers to all the common questions you may have while trying to bypass the "Netflix Proxy Error" or even after doing it a few times successfully. 
Will Netflix ban me for using a VPN?
Since it is a video service, Netflix has to follow various copyright laws and licensing regulations for digital content. Because of these legal implications, different content is available in different locations. Netflix is legally bound to adhere to the guidelines and must prohibit people from accessing content that is not meant for their own region. Because of this, it blocks proxies, VPNs and other tools used to change an IP address. 
Will I be blocked from my local Netflix if I use a VPN? 
It is unlikely you'd be banned from Netflix for using a VPN. While Netflix could choose to ban you (this technically violates the platforms terms of use), it seems unlikely it would and there is not much evidence of Netflix doing this in the past. In general, Netflix is more likely to ban the VPN or IP address attempting to use it than suspending an actual user account. 
What if "The Netflix Proxy Error" pops up again? 
It's possible that the Netflix Proxy error may reappear even after you've gone through the steps to troubleshoot it and have successfully done so. In this instance, simply follow the steps above again to fix the issue and bypass Netflix proxy blocks. 
Is a VPN an unblocker?
This one comes down to semantics. VPN stands for virtual private network, and it works by encrypting your internet connection to secure it. VPNs also change your IP address, allowing you to appear to be browsing form a location other than your actual, physical geo-location. While they are not always referred to as "unblockers specifically," VPNs do help perform an "unblocking" function.
Still have questions about why you are seeing the Netflix proxy error and what to do about it? It's best to contact the customer support team for your VPN provider, as they can provide further assistance and troubleshooting. VyprVPN's Customer Support team is available around the clock to help!
Using VyprVPN to Avoid the Netflix Proxy Error
The Netflix proxy error is, as the name belies, an error that appears when you attempt to access Netflix using a VPN or proxy. While annoying and stressful at first, don't fear if this error pops up. Remember, there is a way to fix the Netflix proxy error each time it appears - use VyprVPN for Netflix!