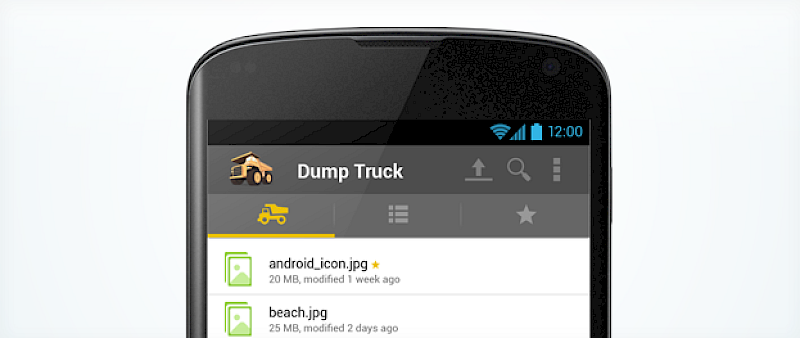 Dump Truck for Android Updated with New Interface and More
TODO ?>
Attention all Dump Truck for Android users: we are pleased to announce that Dump Truck for Android has just been updated to version 1.1! Say goodbye to the previous Gingerbread-inspired user interface and say hello to a new user interface that is more consistent with Android 4.0 (Ice Cream Sandwich) interfaces.
We have been working on this update for some time in order to not only bring you a better designed app, but an app that is faster, easier to use, and more stable. We've also included the ability to use the long press gesture to quickly act on single or multiple files from the directory view. And to top it off, we added a multi-pane layout for tablets.
Please note that the 1.1 update makes use of the latest operating system from Google so it is only available for devices running Android 4.0 or greater. Dump Truck users running Android 2.x and 3.x can continue to use the 1.01 version, but will not be able to update to 1.1.
Action Bar
The action bar is the bar located just below the notifications bar in the interface. It provides a consistent place for all of the actions within the Dump Truck app and is present in most Google apps, such as YouTube, Google+, and Gmail. You can use the action to bar for specific actions such as uploading, switching to thumbnail view or dragging to reorder in the favorites tab. We also use the action bar to display your current folder name and other contextual actions when you use long press to select an item or multiple items.
Long Press
When you long press to select an item or multiple items, the default action bar is replaced with an action bar that displays contextual actions. If you have one item selected you can perform actions that were previously accessible from the full-screen view, such as sharing, favoriting, or deleting. If you have more than one item selected, you can delete or favorite the entire group.
Tablet Support
Finally, we included tablet support for the growing number of Dump Truck users that use Android tablets, such as the Nexus 7 or Nexus 10. In multi-pane layout you will see the standard directory interface on the left and on the right you will see the viewing area for images and other files that Dump Truck can display.
We are really proud of this update today but we aren't stopping here. We are already working on more features for all of our platforms, including Android. However, we couldn't develop these new features without the all of the great feedback from our fantastic users. Please keep the feedback coming! You can share your product ideas and feature suggestions with us at Golden Frog Ideas: https://ideas.vyprvpn.com.
And If you don't have a Dump Truck account yet, go and sign up for a 5GB account today, they're free!
To keep up to date with Dump Truck for Android, please subscribe to the Golden Frog blogand follow us on Facebook, Twitter and Google+.