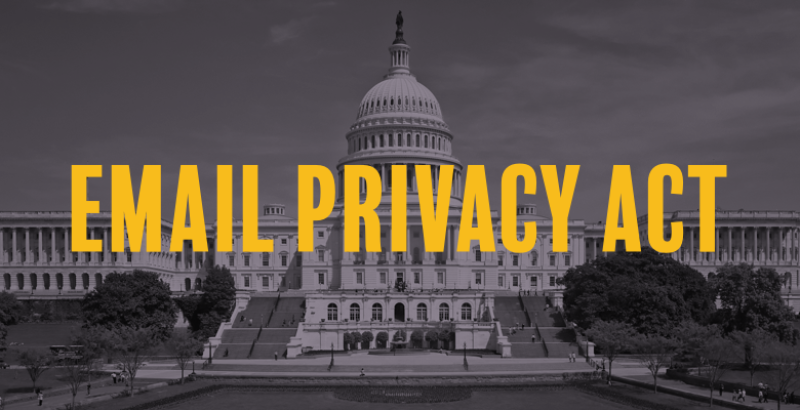 Seize a Rare Second Chance to Pass the Email Privacy Act
TODO ?>
The Email Privacy Act we brought to your attention in past blog posts has been revived in the House-passed version of the National Defense Authorization Act (NDAA). The bill will provide warrant protections, requiring all law enforcement agents who seek access to emails, chats or online traded messages from companies like Google, Facebook, Dropbox, Apple or any other major electronic message or cloud provider for a person's data to first obtain a probable cause warrant.
As Vice President for Policy at the Center for Democracy & Technology (CDT) Chris Calabrese explains, the Electronic Communications Privacy Act has not seen significant revisions since the late eighties, which puts U.S. law leaps and bounds behind Internet advancement. 
Golden Frog has renewed our commitment to the coalition with our signature on a letter in support of the bill, as it is virtually indistinguishable from H.R. 699. The full content of the letter to the Armed Services Committee is available here, but some notable inclusions are: 
The Act updates the Electronic Communications Privacy Act (ECPA), the law that sets standards for government access to private internet communications, to reflect internet users' reasonable expectations of privacy with respect to emails, texts, notes, photos, and other sensitive information stored in "the cloud." 
The bill would end ECPA's arbitrary "180-day rule," which permits email communications to be obtained without a warrant after 180 days. The Act would also reject the Department of Justice interpretation of ECPA that the act of opening an email removes it from warrant protection. 
What Can You Do? 
Contact your Senator now and tell them to support the Email Privacy Act and urge that it be included in the final NDAA without change. You can find your senator using this tool, then click the link below their name labeled "Contact" to contact them: Find your Senator now. 
Learn more about the ECPA.