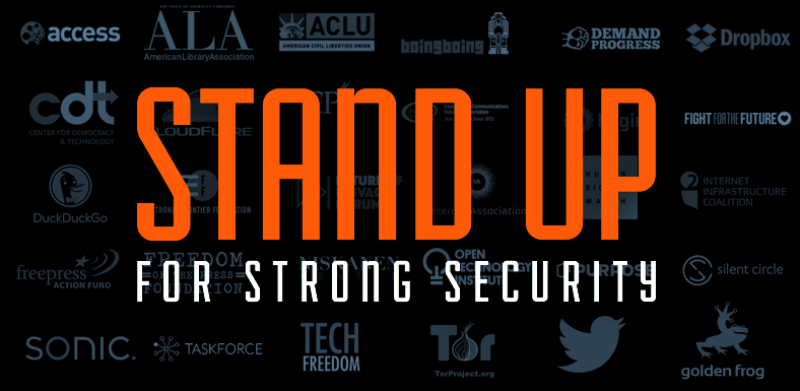 Tell the President to "Defend Strong Encryption" and Help Save Crypto
TODO ?>
Update – March 18: EFF, the organization behind this petition (along with Access Now and the ACLU), are pushing a new phase of the campaign this week. Save Crypto is asking users to tweet at President Obama directly and ask him to defend strong crypto. You can visit the Save Crypto site to tweet directly including an image, or copy and past this text on Twitter:
.@POTUS The time is now. Speak out for uncompromised security. https://savecrypto.org. 100,000+ people are watching.
Update – December 9: This petition has crossed the 100,000 signature threshold, so the US White House will be responding to it. The site currently states that administration officials will be sitting down with the petition's creators to hear their concerns "this week," and they will be reporting back with a response after the meeting. You can also share your thoughts on strong encryption directly with the White House, or ask any questions that you have.
Update – November 9: Golden Frog and our sister company Data Foundry have officially joined the Stand Up for Strong Security effort! We are pleased to be supporting EFF, and to be joining forces alongside so many other organizations and businesses that care about encryption.  As a company built on the principles of privacy and security, we believe that saving crypto is extremely important. Please join us in the fight for strong security, and sign the petition now!
Update – October 20: The petition only needs 15,000 more signatures. Sign now!
Last week, EFF, i2Coalition, Access and several other groups launched the Act Now to Save Crypto Petition, asking President Obama to stand behind encryption and protect privacy and security when creating Internet policies.
Edward Snowden also urged action on the issue, tweeting:
"It's not about something to hide. It's about something to lose. It's time to fight, internet."
The groups behind the petition included Internet businesses and nonprofits alike. These groups filed a "We the People" petition on Whitehouse.gov and asked President Obama to "defend strong encryption," and "reject any law, policy, or mandate that would undermine our security."
You can sign the petition here.
We are strongly in favor of encryption, and encourage you to sign the petition and join in the fight to protect encryption. 
Encryption is an essential tool to safeguard our privacy and security
and absolutely must be protected by governmental policies. Tell the President you want strong encryption now.
Organizations behind this initiative include Access, American Civil Liberties Union (ACLU), American Library Association (ALA) , Computer and Communication Industry Association (CCIA), Demand Progress, Dropbox, DuckDuckGo, Electronic Frontier Foundation (EFF), Fight for the Future, Freedom of the Press Foundation, Free Press, Human Rights Watch, the Internet Infrastructure Coalition (i2Coalition), New America's Open Technology Institute, Niskanen Center, Sonic, Taskforce, TechFreedom and Twitter.
Sign the petition now: https://www.savecrypto.org/

Related Reading
Learn more about the benefits of encryption, and the dangers of encryption backdoors.
Learn more about the ongoing encryption battle, and the tech companies versus the government.
Read more news on this petition from Silicon Beat and Daily Dot.