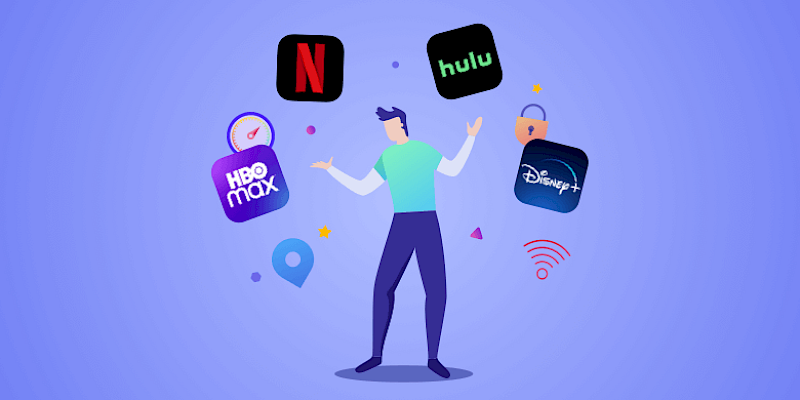 What to Watch this Spring 2021 - Netflix, Hulu, Disney+, HBO Max, Amazon Prime
TODO ?>
Spring is here, and it's time once again to figure out what to watch on your favorite streaming platforms this season. The good news? Your choices have never been better. From great new superhero franchises to returning favorites, this spring's crop of streaming shows are absolutely awesome.
Blocked Sites? Throttling? Privacy Concerns? Stream Stress-Free with a VPN!
VPNs are a must for anyone who is on the move and still wants to catch absolutely every show on this list. Since Netflix and other popular providers often limit streaming to certain regions, using a VPN just makes sense. With it, you'll be able to access blocked websites no matter where you are. Freedom is what makes the internet great, and you can take back that freedom with VyprVPN. In fact, a VPN might be the only way to see some of these shows! A VPN also protects your privacy while you stream, ensuring you aren't putting yourself at risk while watching all your favorites. It prevents your internet service provider from seeing what you're doing online, so they cannot choose to slow down, or throttle, your connection while you stream to your heart's content. 
With that in mind, here are the absolute best shows that the VyprVPN team is excited to see in the coming months. No matter what kind of show you're into, we've got something for everyone. Now grab that VPN and let's get streamin'!
Use a Streaming VPN and Access Awesome Shows This Spring
The Bad Batch - Disney+ 
We can't get enough Star Wars, which is why Disney+ has been so awesome this year. From the Mandalorian to the last season of The Clone Wars, 2020 was an awesome year for Star Wars content. And while we can't wait for the new Book of Boba Fett to grace our streaming screens at the end of 2021, there's a new show streaming on May the Fourth (Star Wars day) that has got our attention. The Bad Batch follows the events of The Clone Wars and bridges the gap between the prequels and the original trilogy. Following a group of clones after the war, it promises to give us all the action and adventure we've come to love from Star Wars. Written by Star Wars master Dave Filoni, this is one show that you'll want to stream with a VPN, even if you're in a galaxy far, far away. 
The Nevers - HBO Max 
A supernatural Victorian thrill ride from the director of The Avengers movies? Sign us up. The Nevers follows a group of women in the 19th century who mysteriously develop powers. The show is a careful examination (and social satire) of the era, its culture and how it could have been different. We're also excited about awesome magical women who are kicking butt and taking names! From the mind of Joss Whedon, The Nevers has already been met with critical praise and will likely be renewed for a second season. Check out what everyone is already talking about. 
Jupiter's Legacy - Netflix 
Comic books have been having a moment for the last decade, but Jupiter's Legacy promises to bring something new to the genre. Based on the popular (and decidedly mature) comic from Image, Jupiter's Legacy asks the question "What happens when our favorite superheroes begin to age out of relevancy?" Full of high drama, uber-powerful superbeings and a great story, this is like Game of Thrones meets Superman. Starring Josh Duhamel and Leslie Bibb, it's got the star power to match the epic story. We're definitely here for it! 
The Wheel of Time - Amazon Prime 
A high-fantasy series that is being referred to as "the next game of Thrones," The Wheel of Time is an adaptation of Robert Jordan's book series by the same name. The plot plays out in a future of sorts, although the show centers around the turning wheel of time and moves through ages, memories, legends and myths in a non-linear fashion. The plot plays out in a time called the "Third Age," which follows a catastrophic event that ended the era of technological advancement. Sounds pretty epic to us. This Amazon Prime exclusive is for the fantasy fans, for sure!  
Love, Death, & Robots Season 2 - Netflix 
If you're a fan of anime, traditional animation and intense sci-fi, you're going to have to watch the second season of Love, Death & Robots. The anthology series features a different director every episode, with self-contained stories that really pop. The first season was a smash hit a couple of years ago, and we can't wait to see what these new directors have in store. It looks weirder, funnier and more intense than ever before! 
Army of the Dead - Netflix 
Did you love the Snyder cut of the Justice League movie? Well good news, because Zach Snyder has a new zombie movie coming out called Army of the Dead that looks to follow up on that success in a big way. It's basically a zombie/heist/action movie, and stars Dave Bautista and an epic ensemble cast fighting off zombies in a post-apocalyptic Vegas. This feels like a movie where you can turn off your brain, make some popcorn and enjoy the show. We're super pumped. 
Master of None Season 3 - Netflix 
Gone for three years, Master of None Season 3 will be a reboot for the series. Originally starring Aziz Ansari in the title role, this season stars Lena Waithe and Naomi Ackie and takes place in London. For fans of subtle comedy, great writing and a little romance, this will definitely be one to see. While Ansari is still attached to the show, we're excited to see the dynamic that the uber-talented Lena Waithe brings to this season. It's one that we're willing to bet you'll remember (and love) long after you've watched. 
Marvel's MODOK - Hulu 
Not your traditional Marvel show, this animated series from the creators of Robot Chicken follows the titular protagonist - a giant-headed, foul-mouthed floating chair supervillain. With all the elements that made Robot Chicken popular (great voice acting, irreverent humor and adult themes) it's going to be a well-needed new take on the genre. Think less Captain America and more Deadpool. Starring the voice acting talents of Pattton Oswalt, this is going to be a show that we absolutely can't wait to stream when it comes out in May. 
The Handmaid's Tale Season 4 - Hulu 
The intense, dystopic drama, The Handmaid's Tale is back for a fourth season this spring. Incredibly dynamic, this series stars the incomparable Elizabeth Moss and promises to be one of its best. If you're wondering what happened to June and everyone else in Gilead, just know you're not alone -- we're excited for it too! This may be the last season of one of Hulu's flagship series, so expect some fireworks by the season finale. 
What are you excited to stream this spring? Drop a line on our socials to let us know what we should be watching next. Remember, with VyprVPN you can watch your favorite shows no matter where life takes you.