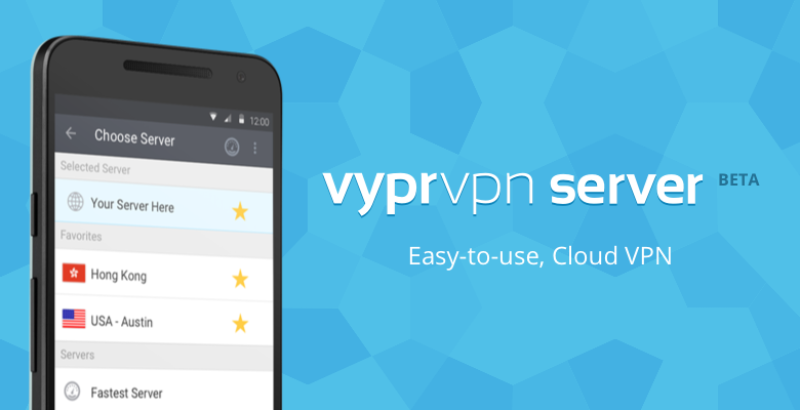 Take Control of your Network with VyprVPN Server
TODO ?>
Last month we introduced the Beta of our newest product, VyprVPN Server. VyprVPN Server is a highly-secure, cloud VPN server that's easy to set up. As our beta continues, we wanted to highlight some key features and uses for VyprVPN Server. If you haven't joined the beta yet don't worry – there's still time to sign up! Get Started Now.
VyprVPN Server Features
VyprVPN Server was designed to eliminate frustrations traditionally associated with VPNs. Our flexible, highly-secure solution is easy to set up and includes the following features:
Your own dedicated server: VyprVPN Server is your own, dedicated server. This means you're in total control of the entire stack.
Fast and easy deployment: You can get up and running in minutes. VyprVPN Server even gives you feedback while deploying, so you can stay updated on what's happening throughout the deploy process.
Unmatched security: VyprVPN is highly secure, locking down your cloud infrastructure to protect your connections at all times.
Seamless connection to existing apps: VyprVPN Server is flexible, so you can connect to your existing apps and programs (for example Salesforce, Confluence).
What can you use VyprVPN Server For?
Infrastructure security
Access to resources
Testing / QA
Whitelisting IPs
Who should use VyprVPN Server?
VyprVPN Server is great for a variety of business uses, including:
Accessing network resources while travelling
Securing the access point for all employees working from home
Freelance and remote workers
Developers, designers, creative agencies, website makers, e-commerce testers
Anyone looking to lock down their network infrastructure
Learn more about VyprVPN Server, and sign up for VyprVPN Server beta now.