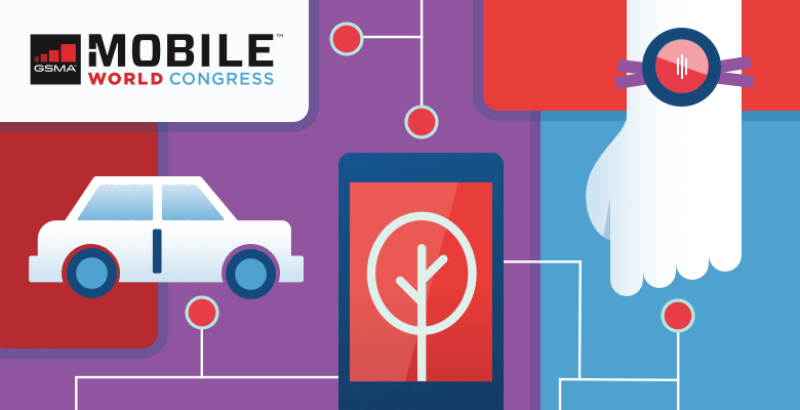 Tech Trends at Mobile World Congress 2016
TODO ?>
Mobile World Congress ended Friday in Barcelona, and with over 100,000 attendees and more than 2,200 participating companies, it's no wonder the conference boasted the largest exhibition in the world for the mobile industry. With the 2016 event wrapped up, we're taking a look at the top tech trends seen at this year's conference:
Wearable Tech
Within the realm of wearable technology, Mobile World Congress saw a vast array of gadgets ready to surprise and excite consumers. HTC's latest Vive Pre VR Kit offers virtual reality at 90 frames per second of HD video in each eye. This kit requires a powerful PC, and is quite chunky, but has been praised for its full-body experience and comfortable fit. Samsung also introduced a series of charm bracelet wearables that act as activity trackers to "track daily activities in a fashionable and minimal jewelry design." The bands sync with Samsung smartphones via Bluetooth to keep track of daily activities such as steps, calories and more.
Smart Phones
This year's MWC was booming with futuristic smart phone technology. Samsung unveiled the Galaxy S7 and Galaxy S7 edge, and with the new sleek models featuring curve glass backs and microSD card slots, these phones have caused quite a buzz already. The LG G5 has also caused a huge stir at this year's event. Its removable battery and modular design (LG G5 comes with an expansion slot allowing users to insert specially made companion devices such as camera accessories) make the LG G5 desirable for smart phone enthusiasts.
IoT
The Internet of Things pavilion at Mobile World Congress promised smart new business models that will improve business processes while reducing cost and risk. The IoT contributes to the global economy with manufacturing, health, insurance and much more. In fact, during a speech this week at MWC, European Commission VP, Andrus Ansip, stated that by 2020, at least 26 billion devices will be hooked up to the Internet, and that 70% of people on earth will own a smartphone. At this year's MWC, Sigfox, a global IoT communication server, won the award for Best Mobile Innovation for IoT. The self proclaimed 'Switzerland of IoT,' Sigfox says "We're neutral about devices, systems integrators, software providers – we'll work with anyone." We're sure we'll see big things from Sigfox in 2016!
Green Technology
"Going green" at Mobile World Congress has been a strong trend this year, with the Green Stand Awards recognizing exhibitors' high standards for making environmentally friendly technology. Who might win? Samsung is showcasing an "ecosystem of services and products to enable a safer, more eco-friendly and more fun driving experience" through their new connected car solution. A smaller Swedish company introduced myFC (My Fuel Cell) a small hydrogen powered fuel cell that will work even under extreme conditions- a seemingly ideal product for developing countries. The "going green" theme was certainly popular this year!
Golden Frog was thrilled to attend MWC 2016 this year to talk about the importance of privacy and security.  We're glad to see tech evolving and thriving in so many ways within different markets, and look forward to more exciting tech trends come 2017!