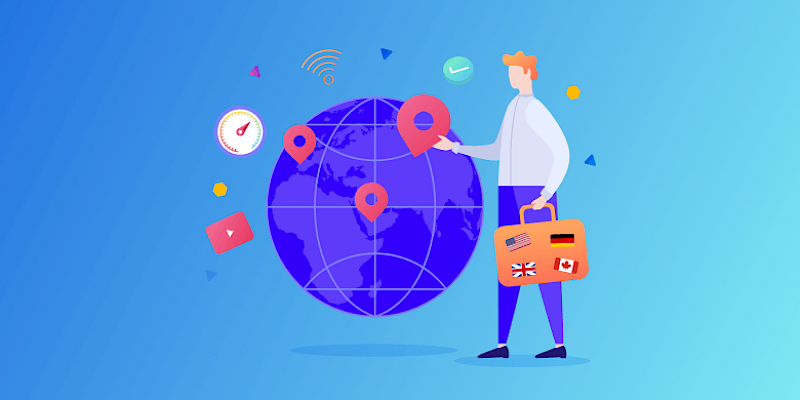 Travel Smarter with a VPNtravel-vpn
TODO ?>
Jacket, toiletries, camera...when it comes to your packing list, there are some main items you are sure to bring no matter where you go. But there is one item that's often overlooked yet can bring about massive potential improvements to your trip. If you've read our blog before you may have guessed...it's a VPN!
Why Use A VPN for Domestic and International Travel?
There are a surprising number of ways a VPN can improve your experience while traveling, whether you're heading an hour away or to an international location across the globe. The versatility of VPNs means they can help with anything from staying private to bypassing restrictions, and a large number of other things in between.
Avoid Censorship and Restrictions 
Some countries around the world censor their internet, restricting what content is and is not available. This means that while traveling, you may suddenly find yourself cut off from your favorite websites or news media, and even important tools like Gmail or social media platforms and apps. Some countries are also known to impart surveillance and monitor what their internet users are doing online and what they post. This means a VPN is crucial for your privacy, too, but more on this below. Using a VPN ensures you never lose access or connection to the information and services you need – no matter how many locations you visit! 
Prevent Being Locked Out of Your Accounts 
Getting locked out of your accounts can be a nightmare when traveling, especially when it comes to something essential like a bank account or an important email login. Once locked out, it can take a while to get back in – things like authentication or conflicting time zones can prevent you from getting connected again, and if it happens on a weekend or holiday, you could really be in trouble. Also, in some areas phone service may not be an option to get reconnected. If you're locked out, you may not be able to access necessities like your money or your travel itinerary. Similarly, if you get locked out of your email or another important account (say, for working remotely), it can cause delays and undue stress during your travels. 
Don't Get Bogged Down with Authentication Alerts 
Similar to the situation of being logged out of your bank account, if you are traveling and you use a foreign IP, you may be locked out of standard services you use frequently. This is at minimum an inconvenience and can turn into an actual problem if you're unable to get back into your accounts easily or quickly! This becomes especially true if you are working remotely and rely upon someone else to authenticate for you – with time zones this can be a big hassle. It can also simply detract time from enjoying your travels. 
Stream Favorite Shows 
Traveling abroad and want to log into your paid Netflix account to catch the latest episode of your favorite show? Think again. Netflix and many other popular streaming services restrict access to content based upon geolocation. This means, it's quite possible (if not likely) that you suddenly won't have access to your account when you're overseas – even though you paid for it and can use it at home. A VPN allows you to change your IP address to your home country and access your catalogs as if you're on the go. It also allows you to stream your favorite shows online from providers in your home country (for example, news or sporting events), so you never miss out on the action or the latest episodes. 
Save Money on Travel Purchases 
Who doesn't love a good deal, or even just a bit of travel budget that can be repurposed elsewhere. When you are abroad, sometimes prices for items can vary by country. If you are traveling among countries, it's a good idea to check prices in the destination country, as they may vary or be cheaper than the country you are coming from! When you're talking about big purchases like flights or hotels, even small savings can really add up fast. Using a VPN allows you to change your IP address to the country of your choosing to price shop for the best deals – and protect your privacy while doing it! 
Stay Private and Secure 
One of the most important reasons to use a VPN while traveling is to protect your privacy and security. A VPN encrypts your connection to secure it, and in doing so protects your privacy from anyone who may be trying to hack or snoop. Even if a bad actor gains access to your connection, they won't be able to see anything. This is especially important while traveling, as every network you used is unknown or untrusted. Think about anything from your hotel or lodging to transit and places like airports or train stations, as well as joining into unknown cell networks or other connections you come across. Using a VPN is important daily even in your home country; it becomes increasingly essential while on the go! 
Stay Connected on Social Media 
One of the most common things to be censored in other countries are social media platforms. While some destinations ban them outright, in other areas they may be temporarily blocked or restricted during political events or other national matters. Some are blocked at all times by default. This means you could lose access to your connections to home, friends and family in an instant – something you certainly don't want to do! Using a VPN ensures you can always stay connected on social media and across the internet in general. Whether you want to share photos of your trip, use messenger with loved ones or simply just feel like you aren't missing out on what's going on at home, staying connected is so important! 
Protect Business Data when Working Remote 
If you are a freelancer, or plan to even just check in with the office while traveling, using a VPN is a must. It protects not only you, but also your business' important data and information. Not only could you be giving away sensitive information or revealing intellectual property if you're hacked, but some businesses even have laws or rules about how you access their network from outside the office. So, it could be detrimental to you and your career if you don't take the proper measures to secure your internet. A VPN is a quick and easy way to gain peace of mind and protect your company's information. 
VyprVPN: The Best Choice for your Travel VPN
Of course, there are many choices of VPNs out there. But when it comes to travel (and service and reliability in general), VyprVPN offers some exciting benefits!
Chameleon Protocol 
Our proprietary technology was designed explicitly to defeat the strictest censorship out there, even in highly internet censored countries like China. It even defeats VPN blocking, providing a reliable, stable connection even in the hardest places to stay connected to. No other providers boast such technology; we developed it ourselves. 
Apps for All Devices 
With applications for all devices from computers to tablets to phones (and more), VyprVPN will keep you covered no matter what devices you bring with you. Accounts come with up to 30 connections, meaning you can protect all your devices and those of your friends traveling with you with a single account. All devices mean you stay safe and always connected. 
70+ Server Locations 
With so many locations to choose from, VyprVPN can be an asset no matter where you are in the world. We have servers local to so many countries, as well as regions, that changing your IP to whatever geo you need is a breeze. See our full list of VPN servershere. 
Set It and Forget It 
VyprVPN offers easy, automatic features including public wi-fi protection. This means you can designate it to automatically connect on unknown networks - taking the burden off you to remember each time. When you're traveling you have enough to worry about – tickets, transportation, translation - so it's great to not have to keep privacy top-of-mind yet always stay safe. 
Now that the world is opening back up, it's time to get going. Add VyprVPN to your packing list today!