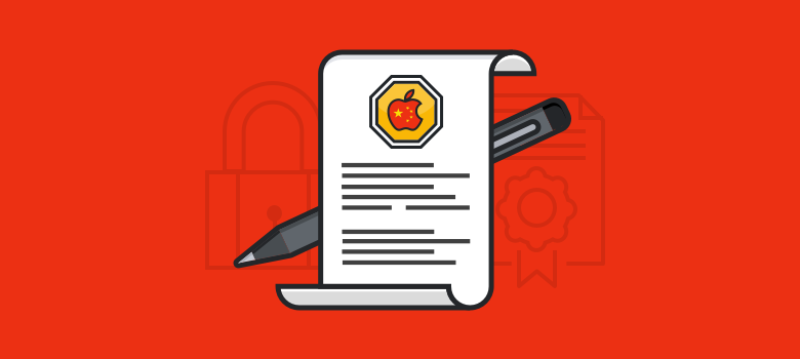 US Senators Demand Answers on Apple Censorship in China
TODO ?>
Update – December 1, 2017: Apple responded to Senators' inquiry about their censorious actions in China last week. In a formal statement given by Apple's VP of public policy, Cynthia Hogan, Apple explained that although they aren't happy about complying with censorship in China the alternative – non compliance – is worse. As explained by Silicon Beat, Apple wanted to "engage with Beijing in hopes its authoritarian government will one day see the benefits of freedom of expression." Hogan's official statement is as follows:
"We believe that our presence in China helps promote greater openness and facilitates the free flow of ideas and information. We are convinced that Apple can best promote fundamental rights, including the right of free expression, by being engaged even where we may disagree with a particular country's law."  View the official statement in full here.
Original Article: Last week, news broke that two United States senators wrote a letter to Apple CEO Tim Cook demanding answers regarding Apple's recent removal of VPN apps from the app store in China. Senators Ted Cruz and Patrick Leahy pose several questions to Cook and Apple about their actions in China which – as we previously mentioned when we partnered with Greatfire.org and penned our own letter to Tim Cook over a month ago – are setting censorious precedents in a country already notorious for Internet restrictions.
Among the questions they asked are:
Did Apple provided any formal comments on China's new cybersecurity law announced in June 2015?
Did the Chinese governemnt issued a formal request for Apple to remove VPN apps from the app store?
What is the total number of apps Apple has removed – both with and without request of the government?
I'm glad to see the Senators recognize the importance of Internet Freedom in China and fully support the questions they have asked Apple. I hope Apple takes the Senators' request seriously and provides more transparency regarding their recent decisions that have reduced Internet freedom for so many Chinese users.
Although it took a while for any members of the government to get onboard (we sent out letter back in August, after all), I am pleased to see these senators following our lead and demanding answers – rather than turning a blind eye to the situation going on in China. We fully support this letter penned by Cruz and Leahy, and hope it results in further attention on the matter as well as answers from Apple on their concerning practices.
Golden Frog's Actions
We submitted our own letter to Apple CEO Tim Cook a few months ago, and also launched an online campaign including a letter open to the public for signing asking for more transparency in his company's dealing with China, to better help Internet users understand regulations and demands. Our letter garnered over 1,500 signatures, and can still be viewed and signed. These censorship issues in China are ongoing, and censorship has been increasing within the country steadily over the past years. So I certainly don't anticipate a rapid response to these questions, I hope that a response will come in time and we'll continue to address the issues that have been going on in China for a long while.
Additional Resources
Source: Engadget