VyprVPN App Updated: Automatically Connect to the Fastest Server & More
TODO ?>
The latest VyprVPN release adds exciting new improvements on Windows, Mac and Android.
Fastest Server Option
If speed is your top priority, you can now choose "fastest server" and the VyprVPN app will automatically determine the fastest server and connect. You can also use "fastest server" in combination with auto-reconnect to ensure you always connect to the fastest server with every new VPN connection.

Desktop Notifications
The latest release includes the option to receive VyprVPN connection updates straight to your desktop on Windows and Mac. Learn when your connection status changes without ever opening the app or stopping what you're doing.

Control VyprVPN for Windows from the Jump List
VyprVPN for Windows can now be controlled from the Jump List. Connect, log out or open settings, all without ever opening the app.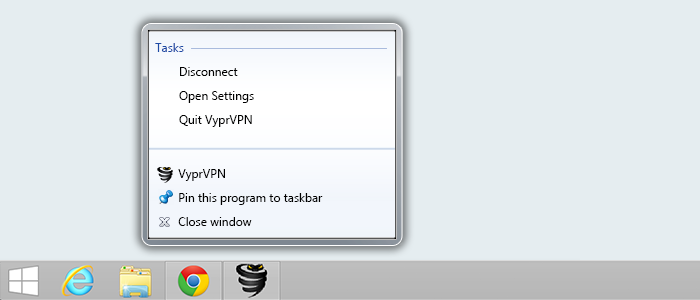 All of these features are part of our goal to make managing VyprVPN as easy as possible. For the complete list of updates included in this release read our changelog.
Head over the Golden Frog forum to discuss. Participating in the forum helps other users and allows us to quickly deliver your feedback to our dev team. Discuss this release, start your own topics and help us continue developing the features you want. As always, if you have an idea for a new feature visit Golden Frog ideas to submit and vote for ideas on any Golden Frog product.