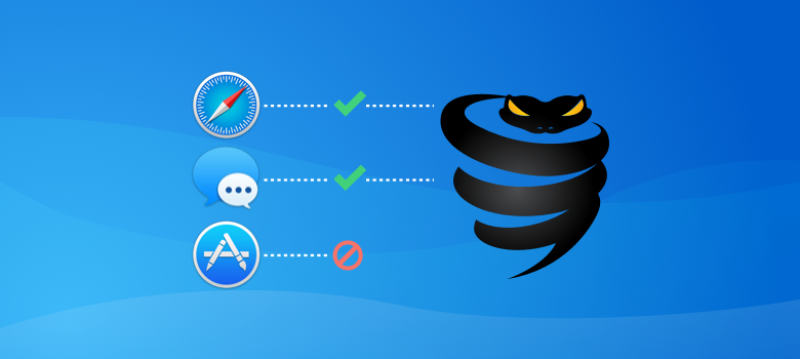 VyprVPN Feature Highlight: Connection Per App
TODO ?>
Are Your Apps Secure?
Mobile devices have become ubiquitous in today's society, and many people rely on apps in their daily life. The average person even uses about 27 different apps on their mobile device! With so many applications connecting to the Internet, the risks to your online privacy and security are great. Whether it be a hacker or snoop, or an app collecting and sharing data about you, it's important to consider privacy each time you connect. One great way to protect your online privacy when using apps is by using a VPN. While not all applications need a VPN connection, for those that do it's an extremely important tool.
What Kind of Apps Are at Risk?
Any app that connects to the Internet or requires you to enter personal details will benefit from using a VPN. Some applications require you to enter personal information to use them, putting you at risk of hackers or snoops if your connection is not secured. Other applications collect a great deal of data collection about your behavior, oftentimes beyond what is expected. For example, an application like Facebook may not only collect information on your browsing habits and time online, but also request access to your contacts, calendar, photos, phone type and other details. Browsers, ISPsand cellular providers alike all collect information about users as well – what sites you're visiting, how long you stay there, the location you're browsing from and muchmore.
Both mobile devices and computers are at risk of these privacy invasions, so it's essential to protect the apps on both – especially when connecting to unsecured Wi-Finetworks from a laptop or mobile device.
What Can You Do?
VyprVPN makes it easy to protect the apps you want (and need!) to use a VPN with, without impacting those that don't require a VPN.
VyprVPN's Connection per App feature allows you to customize VPN behavior on a per-app basis. To turn on Connection Per App, simply visit Settings/Preferences and choose Connection Per App. After the feature is enabled you'll see a list of applications installed on your device (on Mac, you will additionally need to click Manage Apps and then the list will appear). You can then adjust the behavior of each app to define if you'd like it to use VyprVPN with the app or not. The following settings are available:
Use VPN: The app will use the VPN connection whenever VyprVPN is connected
Require VPN: The app will only connect when VyprVPN is connected
Bypass VPN: The app will not use the VPN ever, even if VyprVPN is connected
Once an app is configured for Require VPN, it will connect to the VPN each time you use it. This protects your privacy automatically so you don't have to think about it!
Connection Per App is available on Android and Mac.
Additional Resources
Have you visited our guides section yet? Our guides provide in-depth details on how to use a VPN in a variety of situations: View VPN Guides