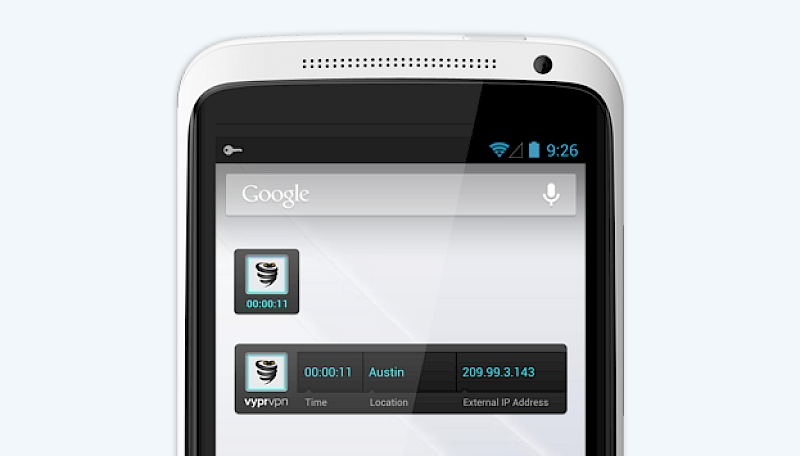 VyprVPN for Android – Now with Widgets!
TODO ?>
We are pleased to announce the availability of VyprVPN for Android version 1.2. This latest release has several new features, but the feature we are most excited about is our new Android VPN widgets. If you have never used an Android VPN widget before, it's an app you can place on your home or lock screen to view the status of an app and use some of its basic functions.
Our new VyprVPN widgets allow you to:
Connect and disconnect from VyprVPN
View the current VPN server location, time connected, and your public or protected VyprVPN IP address
The widgets come in two sizes. The larger 4×1 widget displays the full status information. The smaller 1×1 widget displays only the time connected. Each widget allows you to connect or disconnect from VyprVPN simply by clicking on the VyprVPN logo.
Connecting and disconnecting from VyprVPN and the current protection status are the most basic and important functions of our Android VPN, and that is precisely why we have made them accessible from the widgets. Once you have logged on and connected to VyprVPN for the first time, you never have to navigate back to the app unless you want change servers or account information. All of the key information is right on your home or lock screen. For more information on adding a widget to your screens, visit the VyprVPN for Android FAQ.
There are other noteworthy enhancements in version 1.2. The one we think VyprVPN users will find most useful is a new option to automatically reconnect when the VPN connect drops. This is similar to a feature we have in VyprVPN Desktop. In the settings screen, checking this option will allow VyprVPN to automatically attempt a reconnect anytime the VPN connection is dropped. After a disconnect, VyprVPN will attempt to reconnect five times. After the fifth attempt, VyprVPN will cease reconnect attempts and require a manual reconnect.
The IP address of your device is also now displayed in the application at the bottom of the screen. Prior to connecting to VyprVPN, the IP address is the public IP address of an unprotected connection. Once connected to VyprVPN, the address will change to your secured VyprVPN assigned IP.
Lastly, we have enhanced the connection status messages to provide more detailed information. If you have a slow connection or network issues, the enhanced status messages give you more detailed information on the progress of your connection.
Download our Android VPN from Google Play today!
Requires Android 4.0 or greater
The VPN Apps are free to download but require a VyprVPN Pro Account. Try VyprVPN Pro risk free or upgrade your existing service to use all the benefits of the VyprVPN Mobile Apps!
To keep up to date with VyprVPN for Mac, please subscribe to the Golden Frog blogand follow us on Facebook, Twitter and Google+. Or, if you have a product idea or feature request, please share it with us at https://ideas.vyprvpn.com.