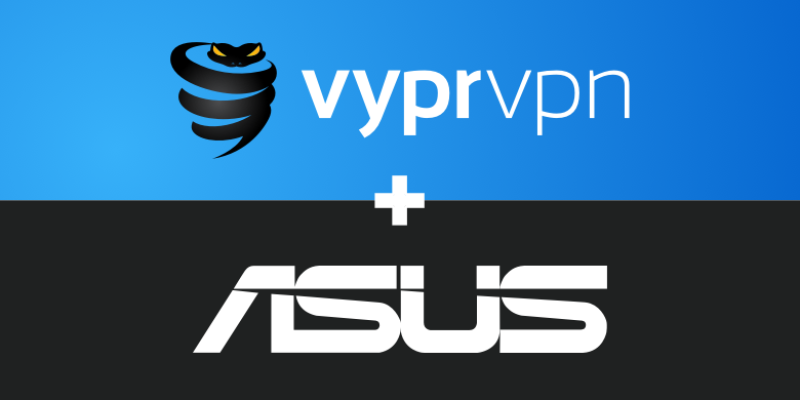 VyprVPN Partners with ASUS, Offers Improved Streaming
TODO ?>
VyprVPN is excited to announce our new partnership with ASUS, a computer hardware and consumer electronics company. As part of this partnership, new ASUS customers who purchase ASUS router devices from authorized resellers in the Netherlands and Belgium will receive VyprVPN free for 3 months when they sign up via the special promotion page. This limited time promotion will be offered on purchases made through December 24, 2017.
ASUS was voted one of the world's most admired companies, and we're happy to partner with a company that provides their customers with the highest quality of service. ASUS router users can use VyprVPN to increase their streaming speeds, stability and security. VyprVPN improves streaming speeds by bypassing network congestion on crowded networks and defeating throttling, or intentional slowing down of streaming traffic conducted by ISPs.
VyprVPN also improves stability so users can stream smoother, and as an added benefit secures the connection through the ASUS router to ensure privacy while streaming or conducting any other activity online. With over 70 global server locations and a 100% owned and operated network, VyprVPN offers the fastest speeds and highest levels of privacy and security for ASUS devices.
About ASUS
ASUS is a multinational computer hardware and consumer electronics company based in Taiwan. ASUS's offerings include motherboards, gaming and consumer notebooks and routers, among other products. Driven by innovation, ASUS provides customers with solutions that enable productivity and fun, while remaining committed to providing the highest quality. ASUS' line of router devices offer a robust and fun web interface, a slew of networking features and an integrated ability to protect a customer's home network from malware and intruders.
Authorized Resellers
ASUS routers can be purchased from the following authorized resellers:
Netherlands: 4Launch, Alternate, Azerty, CDROMLAND, Coolblue, Forcys, Infomatique, Kommago, Levix, Media Markt, Megekko, Mycom, Paradigm, Routershop, Wifi Media, Yorcom. Belgium: Alternate, Bol, Coolblue, Tones BVBA. Luxembourg: Bol, Coolblue.