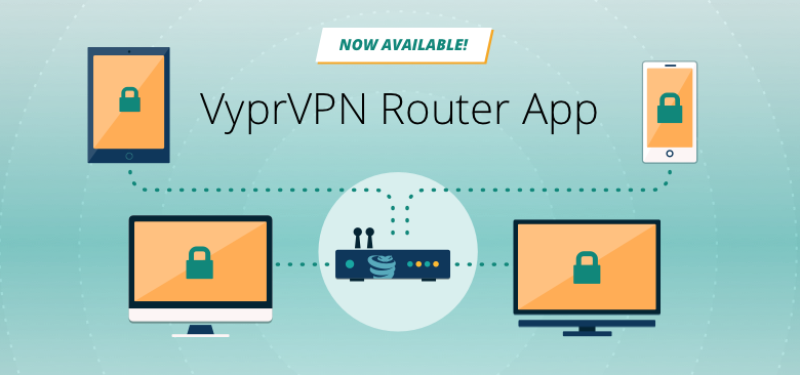 VyprVPN Router Secures All Your Home Devices
TODO ?>
After a very successful public beta, the VyprVPN Router App is now available! Quickly and easily encrypt all the devices on your home network by equipping your router with VyprVPN. Our Router App even allows you to choose which devices use the VPN and which ones don't.
Getting Started Is Easy
Follow these step by step instructions for equipping your router with VyprVPN*
Log in with your Golden Frog username and password
Done!
*You must have a paying VyprVPN account to use the Router app

VPN Protection for All Your Devices
We are dedicated to offering VPN security on all your devices. Our VyprVPN Router App takes a huge step towards that goal by extending VPN encryption to any of your devices regardless of the platform, operating system or device type.
Watch Netflix via Apple TV or Google Chromecast? Keep your ISP from identifying your streaming traffic and slowing it down.
Like to play video games? Connect your consoles to VyprVPN and defeat DDOS.
Have kids browsing the Internet throughout the house? Protect them with VyprVPN.
By protecting you at the source, your router, we have eliminated the need to configure VyprVPN on every device in your house. You can now also secure devices that lack native VPN support. Get started and see what devices you can secure!
Share Your Feedback with Us
The VyprVPN Router App is new and exciting territory for us and we need your feedback. It is currently only compatible with routers on the Tomato MIPS/ARM framework and you must already have active VyprVPN service to use it.
Due to hardware limitations of the consumer class routers supported by the Tomato firmware, encryption speeds will be slower than when using your unencrypted connection. If you are experiencing slow speeds, we recommend using the Per Device settings to limit the number of devices using the encrypted connection.
Try it today and let us know what you think! For more information on the VyprVPN Router please visit our forum.
Don't have a VyprVPN account? Try VyprVPN Today!