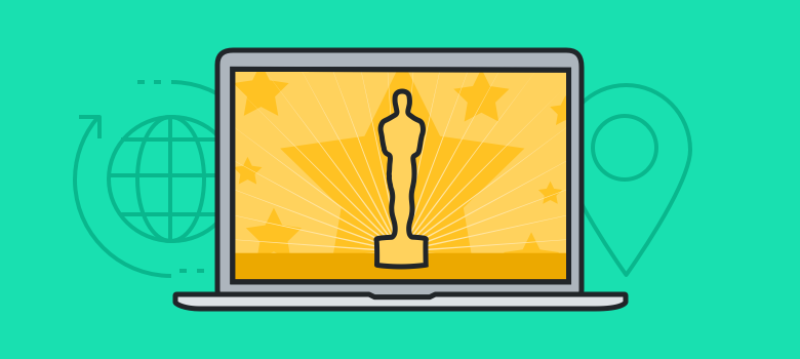 How to Watch the Oscars with a VPN and Improve Your Experience
TODO ?>
The 2017 Oscars are almost here! Also known as the Academy Awards, the Oscars are an annual entertainment industry awards show. The Oscars recognize movies and film from the previous year (2016, in this case) and winners receive the iconic "Oscar" trophy. To help you get ready for this show, we're outlining why – and how! – to use a VPN to watch the Oscars.
The 89th Academy Awards
This year marks the 89th Academy Awards show, which will air on Sunday February 26 at 7pm Eastern Standard Time (EST). The awards take place at the Dolby Theatre at the Hollywood and Highland Center in Los Angeles, California. This year's show will honor movies released in 2016. Some of the top nominations include Arrival, Fences, Hacksaw Ridge, Hell or Hugh Water, Hidden Figures, La La Land, Lion, Manchester by the Sea andMoonlight. Viewers can stream the oscars live at http://abc.go.com/, or can download the ABC app to view the programming.
Improve your Oscars Experience with a VPN
Did you know that using a VPN allows you to improve your viewing experience of the Oscars? A VPN offers many benefits when watching the Oscars, including:
Speed: Bypass throttling or congested networks to achieve the fastest speeds when streaming the Oscars from any location. This could be from your phone while on the go (think public Wi-Fi, you'll have better privacy protections in this case, too), from your home computer or from anywhere else you might be. VyprVPN offers the fastest speeds for streaming.
Access: Access the Oscars from anywhere – whether that be in your home country or another nation around the world. For example, if you're traveling abroad but still want to catch the show – a VPN can help!
Use the link below to get VyprVPN now and improve your viewing experience of this year's Oscars!