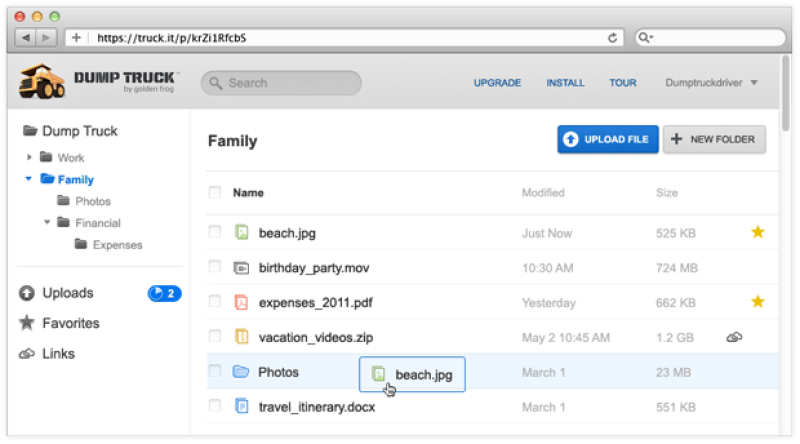 Welcome to Dump Truck: Part 2 – Dump Truck Web App
TODO ?>
We recently posted Part 1 – Dump Truck Desktop of our "Welcome to Dump Truck" Blog series that covered using Dump Truck Desktop to sync files from your computer to Dump Truck. In Part 2 – Dump Truck Web App, we will cover using the Web App to access, store and share your files.
Dump Truck Web App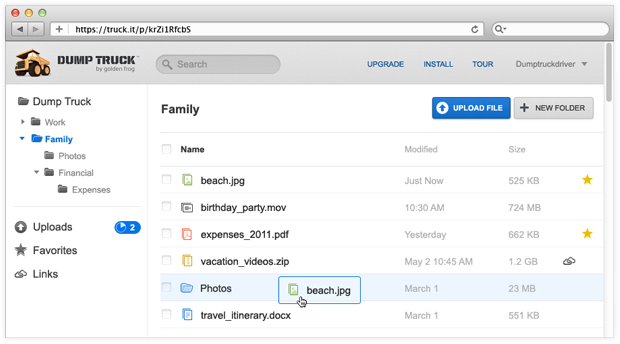 The Dump Truck Web App allows you to upload, access and share your files from any web browser. If your computer or mobile device is stolen or lost, all of your files are safely stored on Dump Truck's servers and can be accessed anytime through a web browser. The Web App is also your headquarters for controlling how you share your files with friends and family.
Sidebar Features
The Web App was designed to be simple – yet powerful.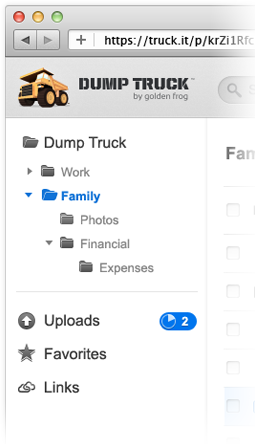 Folder Directory
You can use the folder directory in the sidebar to quickly navigate your folders.
Uploads
Click on "Uploads" to view the status of active and recent uploads.
Favorites
For quick access to things you use the most, simply click the "Star" next to any file. It will always be one click away in the "Favorites" view.
Links
Click on "Links" for easy access to all of your shared public links. You can view how many links are being shared on a file or how many times the file has been downloaded. You can also click on a link to manage and change permissions.
Folder Uploads Supported
The Web App makes it easy to upload an entire folder, including sub-folders. Simply choose the parent folder on your desktop and start uploading your files. You can also upload and sync files using Dump Truck Desktop.
Drag, Drop, Done
Drag and drop files and folders in the Web App just like you do on your desktop computer. Use drag and drop to quickly organize your files and folders in Dump Truck.
Share with Friends and Family
Public links are a great way to share your photos, videos and files with your friends and family. Create a public link and securely share using a shortened truck.it URL or post the link to Facebook, Twitter, or Google+.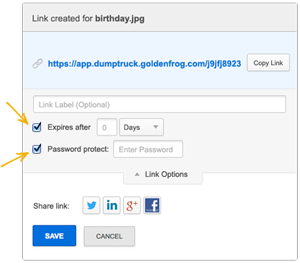 Link Expiration Dates
Use a link expiration date to share your file or folder for a limited period of time.
Password Protection
Add a password to your link to prevent 3rd parties from accessing your files.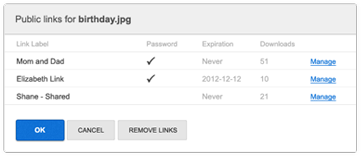 Easy Link Management
See everything you are sharing in one location. View and configure link passwords, expiration dates, and labels. Track the number of downloads per link to monitor access.
We hope that Part 2 of our "Welcome to Dump Truck" blog series gets you started using the Web App to access Dump Truck from any web browser. In the next part of the series, Part 3 – Secure Sharing we will cover secure sharing using Public Links.
Please remember that we offer FREE 5GB accounts so please tell your friends and family to sign up and try out Dump Truck.
To keep up to date with all Dump Truck, subscribe to the Golden Frog blog and follow us on Facebook, Twitter and Google+.