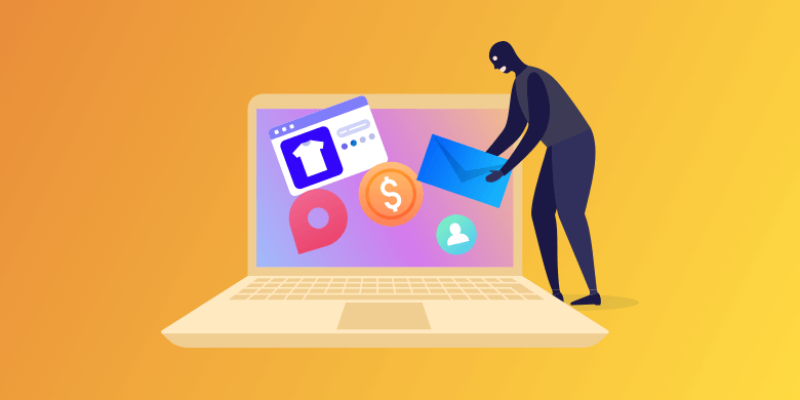 What is Cybercrime?
TODO ?>
October is National Cybersecurity Awareness Month (NCSAM), and in honor of the 18th annual NCSAM we wanted to write about cybercrimes and everything that comes along with them, plus share ways to stay safe from cyber criminals. 
Cybercrime is an increasingly common occurrence these days, and an unfortunate part of our online-focused lives. It's something we must be aware of and work to combat to keep ourselves and our information safe. But what exactly is cybercrime? The cybercrime definition, as stated by Kaspersky, is "criminal activity that either targets or uses a computer, a computer network or a networked device." There are a variety of cyber crimes and security threats out there, which we will explore in this post. 
Cybercrime Definition
When you ask the question "what is cybercrime," the answer may not be as straightforward as you image. On a basic level, cyber crime is performed by cyber criminals and refers to crimes or security breaches conducted using computers, networks or the internet. The definition of cyber crime is broad and encompasses a variety of activities. There are also myriad reasons why people commit cybercrimes, and motivations range from political and financial motives to fraud and theft, to facilitating the buying or selling of illegal substances or services. The introduction of cyber crime and criminal activity is aimed at a person, or it takes advantage of an individual's computer or network to carry out a nefarious activity.
Types of Cybercrime
There are many different types of computer crime and cybercrime out there, and a variety of ways you might be at risk. Some examples of cybercrime include fraud, such as email and internet fraud. Extortion, which is referred to as cyberextortion when it occurs online, includes ransomware and is also a form of cyber crime. Other common crimes include theft of information and personal data, such as credit card or financial data, identity theft and even theft and sale of sensitive corporate information. In extreme cases, cyber crime can also include cyber espionage. More common internet threats such as phishing, malware and DDoS attacks also fall under the umbrella of cybercrime. Cryptojacking is another type of cybercrime, as are hacking and the introduction of viruses. 
There are two main categories of cybercrime – activity that targets an individual or entity via the internet, and activity that utilizes the internet or computers to commit crimes. The targets of cybercrime are as varied as the types of computer crimes and the methods used to carry them out. Victims of cybercrime can range from individuals to groups and even businesses or governmental organizations. This goes for the perpetrators of the crimes, as well; cybercrime is conducted by both individuals and organized groups. 
Cybercrime Laws and Prevention
There are a variety of agencies working on cybercrime prevention around the world. In the United States these include entities like the FTC, FBI, Military and CISA (Cybersecurity and Infrastructure Security Agency). These agencies also help educate the public, and inform people how to report cybercrimes and ways to stay safe. But what can you do to avoid falling victim to cybercrime? Learning cybersecurity basics is a good place to start. 
Visit only trusted sites 
Open emails from trusted senders, and do not click suspicious links or attachments 
Do not share private information online 
Secure your connection with a VPN
Use multiple passwords across sites 
Some cybercrime laws exist to protect internet users, as well. These laws are specific and vary by country and even by state. 
Stay Safe from Cybercrime
As you can see, cybercrime is an encompassing topic that covers a variety of cybersecurity threats. There is no better time than National Cybersecurity Awareness Month to educate yourself on cybercrime and take steps towards combating it! After that, it's important to make smart online decisions to protect your information and yourself from cybercriminals and the risks that do exist. A VPN is one of many positive internet behaviors you may have and should be used every time you connect. 
Ready to give it a try? Get VyprVPN and combat cybercrimes today.