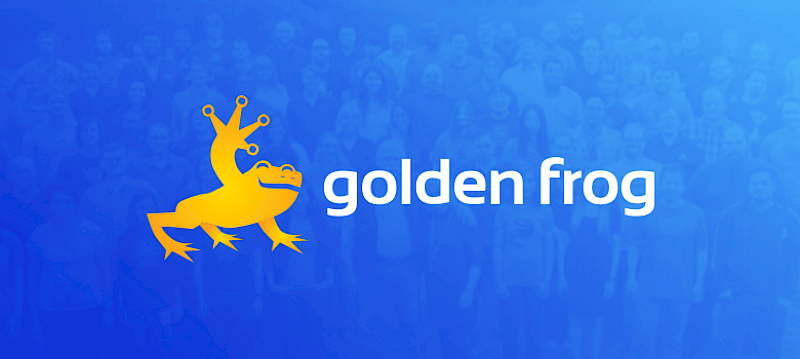 All About Golden Frog: Why Work For Us?
TODO ?>
Golden Frog is not the kind of trendy start-up most people consider when contemplating Austin, Texas. To begin with, we're not really a startup—though we might still feel like one on principle. We're a small company with big business and we've been proving our mettle in this weird, wired town for years.
The experienced Internet veterans who built the Golden Frog team have done so with a vision to preserve an open Internet, helping people around the world protect their online privacy, security and freedom. Our innovations help us advocate for policies and legislation which support our mission and the technology we create. Combined decades of hard-earned wisdom behind the premium online services and products we offer provide us with the insight to become the change we want to see in the world around us.
We are seeking people equally passionate about online privacy and security who want to grow with our team; people who want to make a difference and forge the Internet into a better place.
Innovate
The Internet is a place of unrelenting transformation, and quality assurance is an integral part of our development process. We stay ahead of the trends and constantly strive to exceed expectations for existing technology while we create new products.
Along with VyprVPN, the world's most powerful VPN, we've also created the ultimate optimized gaming network in Outfox, a service which routes game traffic through our network to furnish the best gaming experience possible. Golden Frog develops technologies like these for the specific purpose of offering average Internet users greater control over their online experience and bringing consumers network optimization solutions previously limited to large companies. By anticipating the demands of an ever-shifting market, we're able to deliver our unique services to users.
We believe in owning and operating the global networks and servers we support, so our customers retain peace of mind about their security. From mobile and desktop development to backend services teams, all our software development and network management occur in-house.
Advocate
Fighting for global Internet freedom is a steadfast responsibility for us, which means our team is on the frontlines contributing to legislation, political hearings and then some. Annual SXSW Take Back Your Internet events hosted by Golden Frog have in the past featured Edward Snowden, U.S. congressional and Senate leaders, members of the FCC and CCIA Europe, as well as prominent directors and managers from across the tech industry.
Outside of public events like SXSW, we host hack-a-thons, industry panels and other tech events around the world. We keep a finger on the pulse of international policies and continue to champion a case for an open Internet throughout the year at the highest echelons of government.
Invest
In case the glowing pride we take in our efforts isn't evident by now, we also hold pride in our growth from within. Our penchant for collaboration between departments and our horizontal organizational structure ensures CEOs and executive teams are accessible to everyone in the Golden Frog family, enabling creativity to thrive in an open environment. Many of those executives know what it takes to excel at Golden Frog because they have grown with the company from entry-level positions into tenured management, and others have been working alongside our founders since before Golden Frog's inception.
We work from state-of-the-art offices boasting a gorgeous view of the Austin skyline only minutes from downtown and receive bonuses when we refer our qualified friends to work with us. Golden Frog maintains competitive compensation, work from home opportunities, comprehensive health benefits, and generous profit sharing for its employees.
Check out the open positions on our careers page for more information about how you can join our team!